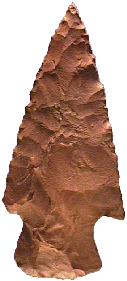 Point Type: BAKER'S CREEK a.k.a. Stemmed Copena, Lowe, Steuben
Also See: Bradford, Chesser, Copena, Edgewood, Ellis, Harpeth River, Lowe, Mud Creek, Rice Side-Notched, Steuben, Swan Lake, Table Rock
Location: Southeastern United States
Associated Dates: 2500 - 1200 B.P. - Woodland
Morphology: Stemmed - Expanding
General Description: The Baker's Creek is a small to large sized expanding stemmed dart point with tapered to barbed shoulders that are typically narrow. The Baker's Creek has a large, broad expanded stem with either a straight or convex slightly ground and thinned basal edge. The basal edge is sometimes almost as wide as the widest blade dimension. The stem was formed by notching into the blade about one-third of the way from the base which formed a long expanded stem and squared shoulders. This diagonal notch tapers from the basal edge which oftentimes remains unmodified in width as mentioned above. Flake scars indicate that a strong percussion method was used to notch the hafting area and to form the expanding stem. All blade edges appear to have been retouched as a final step in shaping the point.
The blade outline is triangular or lanceolate. The blade is medium in width with unbeveled edges and was formed by broad random percussion flaking. The blade most often terminates in an acute or an acuminate distal tip with the proximal end having small, horizontal, inversely tapered or tapered barbs. The cross-section is biconvex.
This type has been called a "Stemmed Copena" (Cambron, 1958) and has been found with Copena points in caches. The Baker's Creek is called the Lowe and Steuben in southern Illinois. The Baker's Creek is found primarily along the Tennessee River Valley in Tennessee and in parts of northern Alabama, northern Mississippi and western Kentucky.
The Baker's Creek size range is from 32 mm to 105 mm in length. The width varies from 19 mm to 36 mm. The stem width ranges from 19 mm to 26 mm. The stem length can run from 14 mm to 16 mm long. Typical overall thickness is 6 mm to 8 mm. The Baker's Creek type was named by James W. Cambron in 1962 for examples found at a site at the mouth of Baker's Creek, Morgan County, Alabama.
About the Point Above: The point pictured at the top of this page, is an average sized Baker's Creek point which is made from a dark brown matte chert. The point measures 73 mm in length and measures 32 mm at its widest point which is across the barbs. The maximum blade thickness is 8 mm. The stem is 16 mm long and is 23 mm wide at the base which is slightly ground. It appears that the lower or left barb has been clipped or nicked off historically. The point was found near the town of Ramer, McNairy Co., Tennessee. Catalog Number 80-22-D
References: Baker, Cambron & Hulse, Dragoo (f), Justice, Overstreet, Perino (1, 4), Puckett (1)
© Copyright 1997 - 2008 LITHICS-Net    WWW.LITHICSNET.COM
Use Your Browser's BACK Button to Return to the LITHICS-Net Index.