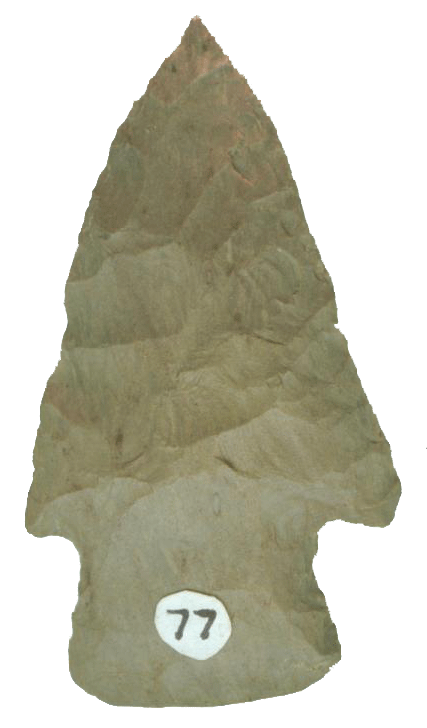 Point Type: BIG SLOUGH
Also See: Beacon Island, Big Creek, Boggy Branch, Elk River, Ferry, Williams
Location: Southeastern United States
Associated Dates: 7000 - 4000 B.P. - Middle Archaic
Morphology: Stemmed
General Description: The Big Slough is a medium to large sized, broad, stemmed Middle Archaic blade or knife form that features a bulbous base. The blade edges are excurvate when new and near pristine and then take on a recurvate outline when they have been resharpened and reworked a few times. Often the blade will feature a mocronate distal tip. The resharpening process has left many specimens with a pronounced asymmetrical outline. The shoulders are inversely tapered and barbed and sometimes being expanding. The stem is typically slightly expanding and has a straight to slightly convex basal edge. The basal edge is usually ground and the flaking ranges from collateral to random and is narrow and shallow. Some specimens with show collateral flaking on one face and random on the other blade face.
The Big Slough is usually found in Georgia, Alabama and Tennessee. The type may be related to the Ferry point type found in Illinois and with the Boggy Branch point of southwestern Georgia, southeastern Alabama and northern Florida. Very small Big Slough points may be indistinguishable with Big Creek type.
The typical dimensions for the Big Slough type are as follows - the length range is between 51 mm and 114 mm. The width ranges from 25 mm to 41 mm. The cross section is lenticular. The Big Slough type was named by David C. Hulse in 1969 for examples which he found in the Big Slough area of Limestone County, Alabama although the type was first recognized by Cambron in 1960.
About the Point Above: The point pictured above is a medium sized symmetrical example of the Big Slough type. The point is made from a patinated tan and redish dull chert. The blade is knapped with diagonal collateral knapping scars on both faces. The specimen features the typical mocronate distal tip. The point measures 58 mm in length and is 33 mm at the widest point which is at the barbs. The blade is 8 mm thick. The base has been slightly ground as have the sides of the stem. The stem is 14.5 mm long, 24 mm wide and 5 mm thick. This point was found in near the town of Ramar, Tennessee. Catalog Number 77-17-D
References: Baker, Dragoo (e), Overstreet, Perino (2), Puckett (1)
© Copyright 1997 - 2008 LITHICS-Net WWW.LITHICSNET.COM
Use your Browser's BACK Button to return to the LITHICS-Net Index.