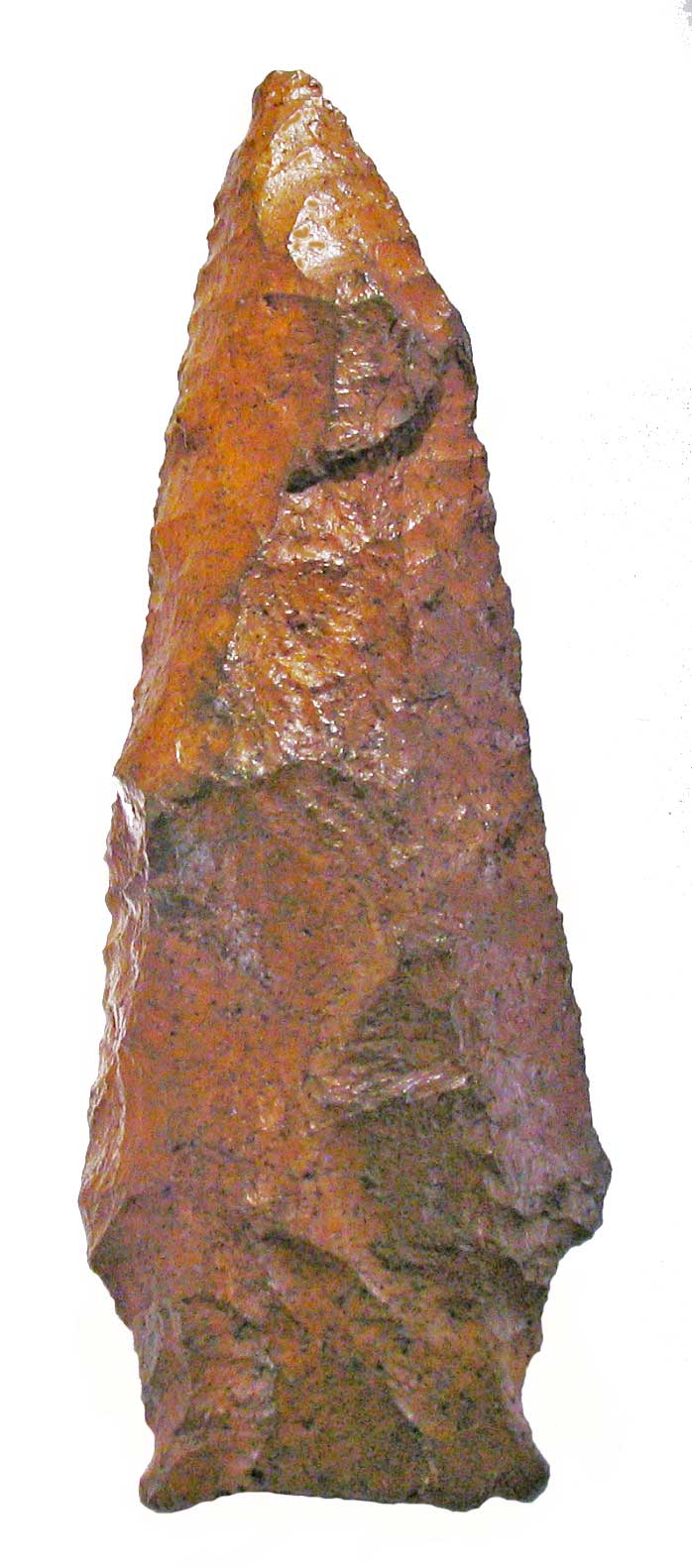 Point Type: COLUMBIA
Also See: Bradford, Hamilton, Ledbetter, Sarasota, Taylor Stemmed, Thonotosassa

Location: Southeastern United States, especially northern Florida, southern Georgia & southern Alabama
Associated Dates: 2000 - 1000 B.P.- Woodland
Morphology: Stemmed
General Description: The Columbia Stemmed point is a medium to large size knife blade having a broad, straight to slightly expanded stem.  Basal corners are rounded.  The base is straight.  The blade is elongated and triangular in outline with straight to slightly convex edges.  Sshoulders are angular to rounded and are weak.  The Columbia point is fairly thick but well made.

The Columbia's total geographic range is not fully known.  It has been found in northern Florida, southern Georgia and southern Alabama.  It is very similar to the Taylor Stemmed point type which may be a shorter version of it, or one that has been resharpened until the blade length has been highly reduced in length.

The Columbia was named by Ripley P. Bullen in 1968 for specimens first found in Columbia Co, Florida.


About the Point Pictured Above: The point pictured above is a Columbia Stemmed point and  is from my personal collection.  It is a very large sized Columbia made from a dark caramel colored chert with heavy river polish and stain.  The point measures 84 mm in length, 28.5 mm at the widest point which are the shoulders. The point is 12.9 mm thick.  The stem is 10 mm thick.  The stem is 14.7 mm long and is 20 mm wide. The stem has rounded tangs.  The blade has a sharp bevel on both edges giving a rounded cross section.   This particular point came from the Flint River area of Georgia. Catalog Number 173-42-Y
References: Hranicky, Overstreet, Perino (2)
© Copyright 1997 - 2008 LITHICS-Net    WWW.LITHICSNET.COM
Use your Browser's BACK Button to return to the LITHICS-Net Index.