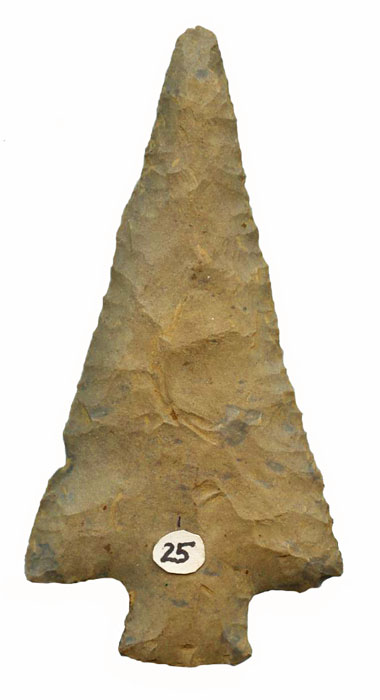 Point Type: COTACO CREEK
Also See: Flint Creek, Ledbetter Stemmed, Little Bear Creek, Perkiomen , Pickwick
Location: Southeastern United States
Associated Dates: 2950 - 2000 B.P. - Woodland
Morphology: Stemmed
General Description: The Cotaco Creek type is a medium to large sized, well made, broad, triangular bladed, stemmed point with rounded to square shoulders. The blade edges usually have fine serrations and many examples have blunt tips. The stem can be either straight or expanding. The stem can have incurvate side edges. The basal edge of the stem is usually thinned with detailed flaking scars and is often slightly excurvate or straight,.
It is suggested that the Cotaco Creek blade served duty as a knife and projectile point and many reworked examples were often reduced into drills. The type has been recovered from numerous sites (Stanfield-Worley Bluff Shelter, Flint Creek Rock Shelter and the Flint River Mound) and has been recovered in association with Wheeler fiber-tempered ceramics. Baker discusses five additional sub-types of the Cotaco Creek (type II, Asymmetrical, Broad Stem, Long Stem, and Narrow Stem).
The size of the Cotaco Creek point ranges from 37 mm to 83 mm in length, with the blade width being between 30 mm and 44 mm. The stem length is usually between 10 mm and 12 mm and the stem width is between 17 mm and 20 mm. Typical mid-blade thickness is between 7 and 8 mm.

The Cotaco Creek is found in Alabama, Tennessee, the Carolinas and Mississippi.

The point was named by James W. Cambron, David DeJarnette and Edward Kurjack for examples which they recovered from sites along the Cotaco Creek in Morgan County, Alabama.
About the Point Above: The very large Cotaco Creek blade pictured at the top of this page, was found in Humphreys County, Tennessee. The point is made from brown and greenish colored chert with rust colored inclusions and heavy patination. The blade edges are very finely serrated. The left blade edge has a small dig about 16 mm up from the barb. The tip has typical Cotaco Creek rounding. The basal edge is very finely thinned with numerous thinning scars. Each blade face has a different color due to patination effects. The blade face shown above is dark greenish and brownish while the obverse side is light brownish and has no green tint. Overall, the point measures 81 mm in length, is 41 mm wide across at the shoulders and is 9 mm thick in mid blade just above the shoulders with a typical mid-blade thickness of 7 mm. The stem (which is slightly expanding) is 11 mm long and 17 mm wide. The stem thickness is 5 mm. The tip of this blade was blunted or rounded on purpose using fine pressure flaking. Catalog Number 25-35-D
References: Baker, Dragoo (f), Hranicky, Justice (1), Overstreet, Perino (1)
© Copyright 1997 - 2009 LITHICS-Net WWW.LITHICSNET.COM
Use Your Browser's BACK Button to Return to the LITHICS-Net Index.