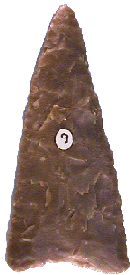 Point Type: KINNEY
Also See: Copena, Darl Blade, Gahagan, Tortugas
Location: Texas
Associated Dates: 3000 - 1000 B.P.- Late Archaic to Late Woodland
Morphology: Lanceolate
General Description: The Kinney blade is a medium to large sized, thin, lanceolate, well made knife blade with incurvate, excurvate or straight blade edges and a concave basal edge. The Kinney has a definate triangular outline. Reworked specimens may have serrations on blade edges. The base always shows a moderate to pronounced concavity and the basal corners usually exhibit a rounded appearance although pointed specimens do exist. It is suggested that the Kinney was used as a knife blade and may predate the Gahagan blade and is similar to the Tortugas point but lack the beveled edges found on that type.
The Kinney is found in Texas from the Pecos River eastward to the Caddoan area, it is most common from the Gulf Coast northward into the central Texas area.
The Kinney blade can range from 50 mm to 178 mm in length. The Kinney blade was named by Dee Ann Suhm, Alex D. Krieger and Edward B. Jelks for specimens found in central, south and soutwest Texas in 1954. It was named for Kinney County, Texas.
About the Point Above: The medium sized Kinney blade pictured at the top of this page, is from the Darby Ranch, Williamson County, Texas. It is made from light coffee colored flint that is speckled with light tan inclusions. It measures 85 mm in length, 37 mm wide at the base and is only 7 mm at its thickest point (18 mm from the concavity of the base) with the blade being a rather uniform 6 mm in thickness. The edges are bifacially retouched and a 17 mm flute has been struck from the concavity of the base towards the tip. The base of the blade has been slightly ground or use worn however no griding is present on the blade edges. Catalog Number 9-9-H
References: Davis, Overstreet, Perino (1), Turner & Hester
© Copyright 1997 - 2008 LITHICS-Net WWW.LITHICSNET.COM
Use your Browser's BACK Button to return to the LITHICS-Net Index.