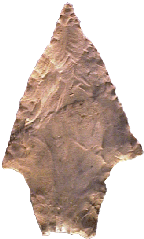 Point Type: LIMESTONE
Also See: Bulverde, Hoxie, Lampassas, Ledbetter, Levy, McIntire, Putnam
Location: Southern to Southeastern United States
Associated Dates: 3000 - 1200 B.P. - Late Archaic - Woodland
Morphology: Stemmed
General Description: The Limestone projectile point is small to medium sized with barbed to tapered shoulders which can be occasionally rounded and a straight or slightly expanded and occasionally contracting stem. The stem is usually long and can have incurvate side edges. The blade is narrow, triangular in outline, and medium in length with edges that are usually straight but can be incurvate or excurvate. The blade edges are unbeveled. The blade terminates in an acute distal tip. The basal edge is always concave and thinned. The stem was formed by the removal of a pair of broad percussion flakes from each side of the preform. The cross section is biconvex. Limestone points are most frequently made of Bangor flint.
Limestone points are found in Alabama and Tennessee and extend into adjacent states. The typical Limestone point measures between 38 and 65 mm long, between 20 and 45 mm wide and is between 6 and 9 mm thick. The stem ranges from 16 to 18 mm wide and ranges from 13 to 18 mm in length. The point was named by James W. Cambron in 1969 for examples which were recovered from a shell mound along the Tennessee River in Limestone County, Alabama.
About the Point Above: The large Limestone point pictured at the top of this page, was found near Caruthersville, Pemiscot County, Missouri. The point is made from a dull tan and gray chert with a thin diagonal dark gray band running across the face of the blade. The blade is very thin and well made with fine retouch along the blade edges. Overall, the point measures 62 mm in length, is 41 mm wide across the shoulders, and is 8 mm thick in mid blade with the vast majority of the blade being 4.5 mm in thickness. The stem is 18 mm long and tapers from18 mm wide to 12 mm wide. Catalog Number 130-41-L
References: Baker, Cambron & Hulse, Dragoo (f), Overstreet, Perino (2), Puckett (1)
© Copyright 1997 - 2008 LITHICS-Net WWW.LITHICSNET.COM
Use your Browser's BACK Button to return to the LITHICS-Net Index.