---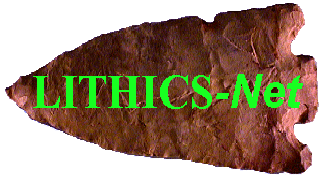 POINTERS TO THE WORLD OF

"KEWL"

LITHIC & ARCHAEOLOGICAL SITES ON THE INTERNET
---
You can e-mail me by simply clicking on my name below or if your browser does not support mailto then my address is artgumbus@aol.com
---

WEB SITES

·  The Mud & Muck Society - The website of the southern New England Mud and Muck Society. A group of amature archaoeolgists who surface hunt and share their finds on the net.
·  National Park Service - Archaeology and Ethnography Program - A marvelous web site that is just chock full of information on North American archaeology and sites. Well worth the visit.
  Paleo Indian Site - A neat site maintained by Tony Baker containing his essays on projectile point refurbishing during prehistory and information on how Folsom points were made
·  Radio Carbon Dating - The home page for the Radio Carbon Dating center at Arizona State.
---
MY POLICY FOR LINKS IS AS FOLLOWS... In general, I Do Publish Links to Internet Sites that Advocate the Buying or Selling of Artifacts (I do make some exceptions for those I have personally dealt with or know to be honest and accredited). I do however, support ethical Artifact collecting practices that are in accordance with Local, State and Federal Laws. It is your duty to know and understand current laws as they pertain to the surface collecting of artifacts. Remember: "Archaeological Sites are a non-renewable resource!"
---
Last Updated September 20, 2016
A few links were recently removed from this list as it appears that the web sites have either become extinct or have moved to a new URL. Once a new URL is received they will be posted again. Sorry.
You can e-mail me by simply clicking on my address ->
artgumbus@aol.com
Please e-mail me if you would like to nominate a new link, report a broken link, report a glitch, or simply to give me some feedback. Thanks for your time. Enjoy the Day!