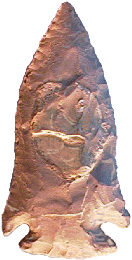 Point Type: PINE TREE CORNER NOTCHED
Also See: Big Sandy, Greenbrier, Kirk Corner Notched , Palmer , Pine Tree
Location: Southeastern United States
Associated Dates: 8000-5000 B.P.- Early Archaic - Mid Archaic
Morphology: Corner Notched
General Description: The Pine Tree Corner Notched dart point is a small to medium sized corner notched type that is usually serrated along the blade edges and has parallel flaking to the center of the blade. The base on this point is usually ground and can be concave, convex , straight, bifurcated or auriculate (with ears). The shoulders expand and are usually barbed. It is suggested that the Pine Tree point evolved from the earlier Greenbrier type. Small examples of Pine Tree points are often classified as Palmer points. Pine Tree points in pristine state can be wide and as resharpening took place the point became less broad and more rapier looking or pointed in shape.
The average size of the Pine Tree Corner Notch point is between 40 mm and 58 mm in length, between 42 mm and 26 mm wide across the barbs, 6 mm to 9 mm thick with a stem 10 mm to 12 mm long and 22 mm to 39 mm wide across the stem ears.

The point was named by James W. Cambron for examples which were recovered from the Pine Tree site in Limestone County, Alabama.
About the Point Above: The extremely large and wide Pine Tree Corner Notched point pictured at the top of this page, is from the former Johnnie Woodard collection and was found near the town of Dickson, Dickson County, Tennessee. The point is made from tanish grayish, almost khaki colored chert with very little gloss. It has a large circular lighter tan flint nodule inclusion in the very center of the blade which is quite unusual and aesthetically pleasing. The edges of this blade are recurved and are not serrated. The round nodule of flint provided the knapper a unique challenge and has dictated an unusual knapping style as its properties are different than the chert material. The basal edge of the nodule sticks up higher on the face of the blade than the surrounding blade material. Overall, the point measures 89 mm in length, is 44.5 mm wide across the barbs, and is only 9 mm thick in mid blade at the high point of the flint nodule but averages 6.5 mm in thickness along the median ridge. The stem is 11 mm long and the ears of the stem are 34 mm wide. The corner notches are 9 mm long. The base is ground as are the ears and corner notches. The stem thickness, including the ears is 5.5 mm. Hypothetically, this point may represents a near original condition or pristine Pine Tree Corner Notched point in an unreworked state. Catalog Number 131-225-D
References: Baker, Overstreet
© Copyright 1997 - 2009 LITHICS-Net WWW.LITHICSNET.COM
Use your Browser's BACK Button to return to the LITHICS-Net Index.