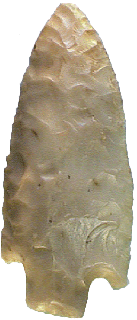 Point Type: PONTCHARTRAIN TYPE II
Also See: Flint Creek, Little Bear Creek, Mulberrry Creek
Location: Middle Southeastern United States
Associated Dates: 3400 - 2000 B.P. - Late Archaic - Woodland
Morphology: Stemmed
General Description: The Pontchartrain Type II is a medium to large sized, broad stemmed point with barbed shoulders which result from a slight corner notching. The blade edges are excurvate and occasional specimens may have serrated blade edges. The widest point of the Type II is usually at mid blade. The Pontchartrain can have well executed ripple flaking with flake scars extending from the blade edge nearly to the median ridge. This type of flaking can occur only on one face of the blade but is usually found on both faces. The stem is parallel sided to slightly contracting and the base is straight to slightly convex.

The Pontchartrain Type II is a localize point with its main distribution being in the Lower Mississippi Valley in the states of Louisiana, east Texas, Mississippi, Alabama and Arkansas.
The Pontchartrain family has two distinctive forms. The first type, (Type I), is long and narrow with straight blade edges with slight but definite, barbless, shoulders which are square or slightly sloping. Stems are relatively wide and can be squared with some specimens showing a mildly tapering stem. It is similar to the Flint Creek type in form. The Type I can exhibit a noticeable twist in the blade and can be very planoconvex in cross section. Many examples of the Type I have some cortex rind on the basal edge of the stem, which is a unique feature of the type.
The Pontchartrain Type II blades can range in size from 46 mm to 105 mm. The width ranges from 22 mm to 44 mm.

The point was named in 1956 by James A. Ford and Clarence H. Webb for examples found at the Poverty Point Site in northeastern Louisiana.
About the Point Above: The blade pictured at the top of this page is a large sized Pontchartrain Type II barbed type. This specimen is made from a tanish waxy and glossy Novaculite. The point measures 93 mm in length, 38 mm at the widest point (across the blade 22 mm up from the barbs) and is 12 mm thick mid blade. The point thins down to 6 mm in thickness. The stem is 13 mm long and is 19 mm wide. This point is from Conway CO, Arkansas and is formerly from the John R. Adams collection. Catalog Number 59-50-O
References: Hranicky (1), Overstreet, Perino (1, 3)
© Copyright 1997 - 2009 LITHICS-Net WWW.LITHICSNET.COM
Use Your Browser's BACK Button to Return to the LITHICS-Net Index.