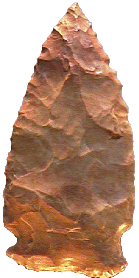 Point Type: SUBLET FERRY
Also See: Besant, Damron Side Notched, Knights Island
Location: Southeastern United States
Associated Dates: 2500 - 1500 B.P. - Early Woodland
Morphology: Side Notched
General Description: The Sublet Ferry is a small to medium sized, shallow side notched dart point that has side notches very close to the basal edge. The base is straight to slightly convex. The blade edges are excurvate when new and near pristine and then take on a straight outline when they have been resharpened and reworked a few times. The shoulders and stem are almost the same width. Often the blade will have mild serrations. The basal edge is thinned. The cross section is biconvex to almost flat.
The Sublet Ferry is usually found in northern Alabama and adjacent parts of Tennessee. The type may be related to the Knights Island point type and the Besant point. The point was found with early Woodland and possibly late Archaic assemblages. Cultural association of the type is uncertain but surface collection associations indicate that the type is an early Woodland type, perhaps associated with Flint Creek artifacts.
The typical dimensions for the Sublet Ferry type are as follows - the length range is between 28 mm and 60 mm. The width ranges from 16 mm to 22 mm. The thickness is between 5 mm and 8 mm. The Sublet Ferry type was named by James W. Cambron in 1964 for examples which he found at sites near Sublet Ferry on the Tennessee River in Jackson County, Alabama.
About the Point Above: The point pictured above is an extremely large sized example of the Sublet Ferry type. The point is made from a patinated creek stained glossy chert. The point measures 72 mm in length and is 31 mm at the widest point which is just above the notches. The blade is 8 mm thick. The base has been slightly ground. The stem is 12 mm long, 29 mm wide and 6 mm thick. This point was found in a creek bed near the town of Ramar, Tennessee. Catalog Number 78-22-D
References: Baker, Cambron & Hulse, Dragoo (f), Overstreet, Perino (1), Puckett (1)
© Copyright 1997 - 2008 LITHICS-Net WWW.LITHICSNET.COM
Use your Browser's BACK Button to return to the LITHICS-Net Index.