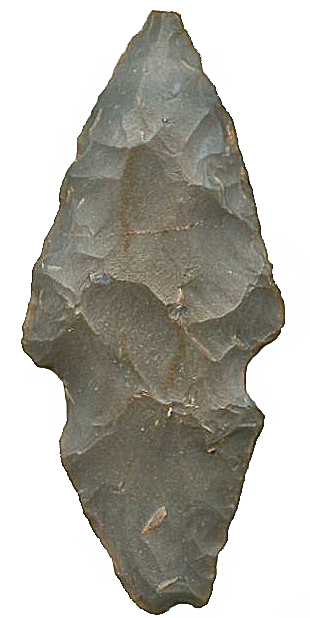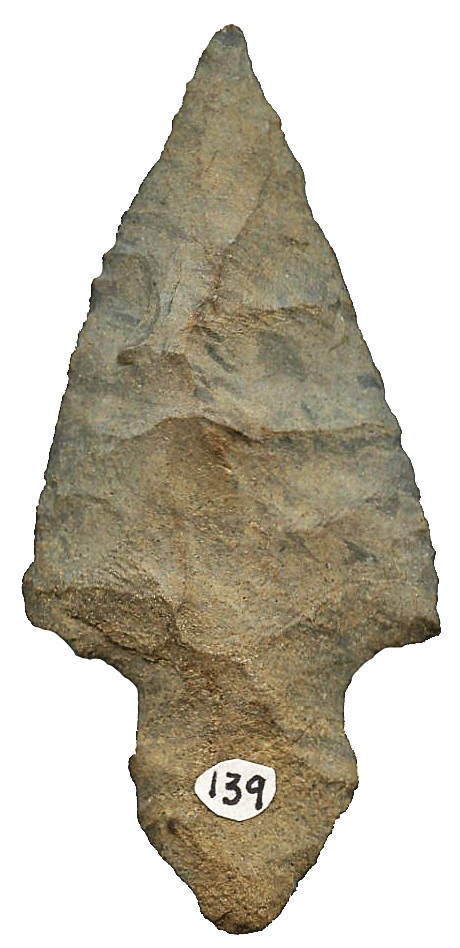 Point Type: HARRISON TURKEY TAIL /a.k.a. Beaver Tail
Also See: Benton Double Notched, Fulton Turkey Tail, Gary, Hebron Turkey Tail,
Location: Midwestern to Eastern United States
Associated Dates: 4000 - 2500 B.P. - Late Archaic to Woodland
Morphology: Side Notched
General Description: The Harrison Turkey Tail is a medium to large sized spear point or knife form with a wide, thin, elliptical, more or less Bi- or double pointed, having a leaf-shaped blade that has broad and shallow side notches near the basal end forming a large triangular stem. The tip is often acute and needle-like.
This type of blade is usually found in caches (especially large specimens) and has been reproduced in recent years by modern flint knappers. Many believe that the type, especially those found in caches were ceremonial in nature. The smaller specimens in the 60 to 90 mm range have been found in the field probably used as knives or projectile points. The Turkey Tail is attributed to the Adena culture. It has be found in Benton caches in Mississippi which were carbon dated to approximately 4000 B.P. The Turkey Tail was typically made from Indiana hornstone or nodular cherts from Kentucky or Carter Cave (Paoli) chert. Often these blades were made from the center of these chert nodules and thus feature so-called bulls-eye in mid-blade with so-called "rinds" on each of the two tips.
The Harrison Turkey Tail is primarily found in Eastern Missouri, Illinois, Indiana, Ohio, Kentucky, Tennessee, Alabama, Michigan, Wisconsin and into Canada however it can also be found with decreasing frequency in adjoining areas.
The size of the Harrison Turkey Tail ranges from 50 mm to 203 mm in length. The width ranges from 22 mm wide to 41 mm. The Turkey Tail family was named by collectors since it resembles the tail of a dressed turkey. The Turkey Tail type was first defined by E. Scully in 1951. There are two other subtypes in the Turkey Tail family which were first discussed by Mary Ellen Didier in 1967. They are the Fulton (varieties being: Dickson, Kimel, FKRS (Fulton, Knox, Ross, Spoon), and Stemmed) and Hebron types. Each of the three Turkey Tail types are further refined into varieties by Didier which she based upon caches found of similar outline. Many of the varieties are very difficult to distinguish and these "hairline" divisions of shape are very difficult to define for consistent identification.
The Harrison Turkey Tail was defined in 1963 by Lewis R. Binford for specimens which he found in Harrison County, Indiana. The Harrison combines the Mitchell and Marshall varieties. Both of these varieties are narrow in width to length proportions and have a triangular shaped stem which is larger than those exhibited on the other types of Turkey Tail points. The notches and stem of the Harrison also tend to be wider than those on the other Turkey Tail types. The resulting form of the Harrison Turkey Tail is one that exhibits a narrower outline with a sturdier hafting area in comparison to the other Turkey Tail types.
About the Point Above (Left): The very small point pictured above on the left appears to be a small Harrison Turkey Tail. Harrison Turkey Tails have a narrower blade than the Fulton variety, and the notches on the Harrison are further from the point of the base. The pictured point measures 51 mm in length and is 24 mm wide. The maximum blade thickness is 6 mm. This blade is a very small example of the type and is made from a dark olive-brownish flint with a few small tan inclusions. This point was found in Christian County, KY. Catalog Number 408-19-C
About the Point Above (Right): The medium sized point pictured above on the right appears to be a Harrison Turkey Tail. The pictured point measures 77 mm in length and is 36 mm wide. The maximum blade thickness is 9 mm with the vast majority of the blade being 6 mm in thickness. This blade is made from a dark brown dull chert and is highly patinated, especially in the hafting area. This specimen was found in Obion County, Tennessee. Catalog Number 139-30-D
References: Baker, Bell (2), Cambron & Hulse, DeRegnaucourt, Justice, Overstreet, Converse, Perino (1, 4), Ritchie, Tully, Waldorf
© Copyright 1997 - 2008 LITHICS-Net WWW.LITHICSNET.COM
Use your Browser's BACK Button to return to the LITHICS-Net Index.