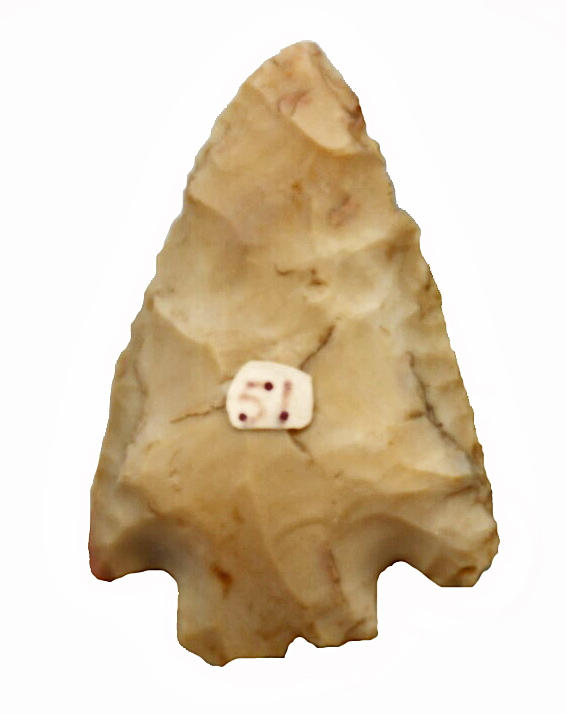 Point Type: VOSBERG
Also See: Brewerton Corner Notched , Crooked Creek, Goddard, Jacks Reef Corner Notched , Kiski
Location: Eastern New York, Lower to Mid-New England, Pennsylvania and Eastern Ohio.
Associated Dates: 5000-4500 B.P.-Early to Middle Archaic
Morphology: Corner Notched
General Description: The Vosberg Corner Notched point is a medium sized, broad, relatively thin and well made point with small to medium corner notches on a short stem which is often basally ground smooth. The length averages about one quarter greater than the width in most specimens. The larger points can be two and one half times as long as they are wide. The corners of the base and the barbs are usually very sharp and reveal delicate notching and pressure flaking. The base is often squat in appearance in relation to the overall point size and is either straight or slightly concave.

The Vosberg ranges in size from 25mm to 70mm in length with most specimens falling between 37mm to 51mm. Larger points which were probably spear points do occur with the largest being 115mm in length.

The Vosberg point was named by William A. Ritchie in 1961 after the Vosberg complex of the Laurentian tradition in Eastern New York. The point is often found with Otter Creek points (Graham Cave). In Eastern New York the point was often made of Normanskill, Coxsackie or Deepkill cherts, while Ohio specimens are almost always made of Coshocton cherts.
About the Point Above (Left): The point pictured above on the left, is one of the finest examples of flint knapping in my entire collection. This point is remarkable in that it is only 3.5 mm thick at its mid section and most of the point is actually translucent measuring 2 mm or less, especially near the barbs and stem. The point has a pronounced mocronate distal end (a small sharp tang on the tip of the blade). This Vosberg is very small and delicate in size, measuring 33 mm in length and is 22 mm wide. The point is made of a white chert (location or type unknown) and has a small nick on the right blade, otherwise it is perfect. This point was found in Stratford, farmer Snapper's fields near the Bridgeport Airport, Fairfield County, Connecticut. Catalog Number 409-10-B

About the Point Above (Right): The point pictured above on the right is a rather damaged Vosberg point with major trauma to the base which is fractured resulting in the base being narrowed and irregular. The point measures 39 mm in length and is 27.5 mm wide at the barbs. The point is made of a white chert (probably 4 Mile Island chert). This point was found in a corn field near Oxford, Ohio. Catalog Number 51-2-G


References: Ritchie, Fogelman, Hranicky, Justice, Waldorf
© Copyright 1997 - 2008 LITHICS-Net WWW.LITHICSNET.COM
Use your Browser's BACK Button to return to the LITHICS-Net Index.