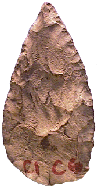 Point Type: ABASOLO
Also See: Catan, Desmuke, Matamoros, Montgomery, Morrow Mountain
Location: Midwestern United States and Mexico
Associated Dates: 7000 - 5000 B.P. - Early Archaic to Mid Archaic
Morphology: Lanceolate
General Description: The Abasolo is a small to medium sized leaf-shaped stemless lanceolate dart point with a triangular blade and a base that is usually well rounded, almost semi-circular but can be on occasion weakly convex. The blade edges are straight to mildly excurvate and the base is most often thinned for hafting purposes. The blade is often beveled, either along the right or left edge of each face but in some cases, the edges are not so much beveled as they are steeply chipped on both edges of one or both faces. The Abasolo is primarily a southern Texas point type and ranges into northeastern Mexico with occurrences of less frequency in adjacent areas.
The Abasolo may have also served as a knife rather than a projectile point. It most closely resembles the Tortugas point but differs in that the Abasolo has a rounded base. The Abasolo also resembles the Catan in all respects other than size where the Catan is a smaller point.
The Abasolo ranges from 40 mm to 75 mm in length with the width ranging from 20mm to 34 mm. The point was named by R. S. MacNeish for specimens that he found in the state of Tamaulipas in northern Mexico in 1958. The point was described by D. A. Suhm, A. D. Krieger and E. B. Jelks in 1954, prior to MacNeish's publication.
About the Point Above: The Abasolo pictured at the top of this page was formerly in the Ms. Willingham collection and was found in Kinney County, Texas. The point is made from an extremely patinated, brown chert material. Overall, the point measures 47 mm in length, is 24 mm wide and is only 6 mm thick in mid blade. The flaking scars reveal smoothing typical of the effects of weathering and there are heavy mineral encrustations on this blade. Catalog Number 96-19-N
References: Bell (1), Davis, Overstreet, Turner & Hester
Use your Browser's BACK Button to return to the LITHICS-Net Index.

Copyright 1997-2008     WWW.LITHICSNET.COM