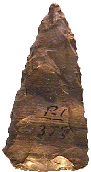 Point Type: MATAMOROS
Also See: Abasolo, Catan, Levanna, Madison, Montgomery, O'leno, Tortugas, Yadkin
Location: Midwestern United States - Especially Mexico & Texas
Associated Dates: 1400 - 200 B.P. - Mississippian
Morphology: Lanceolate (Triangular)
General Description: The Matamoros is a small sized, often thick, triangular lanceolate dart point or arrowhead. It greatly resembles the Tortugas point in all characteristics with the exception of size. The Matamoros is smaller in size. The Matamoros point is basically triangular in outline. The blade edges are usually straight, slightly excurvate or slightly incurvate. The basal edge is usually straight or slightly concave or slightly convex. The basal edge is usually thinned. The type, when resharpened, acquires a beveled edge on the right or left edge of both faces and occasionally on both faces.
The Matamoros type is usually found in southern Tamaulipas, Mexico to the coastal Gulf coast of Texas and then inland across the south of Texas towards the southwest. It is also found in Oklahoma. The Matamoros type is believed to have first appeared about 1400 B.P. and to have survived in use into historic times. In Texas, the type is found in the Mier, Brownsville and Rockport Foci. In some sites it appears both with and without pottery. The Matamoros is small and could be classified as an arrow point except that the point's thickness and edge beveling suggest its use as a dart point. This beveling of the edges also suggests that the point may have been utilized as a knife.
The length range of the Matamoros ranges between 19 mm and 45 mm. The Matamoros was named by R. S. MacNeish in 1954 for specimens found inTamaulipas, Mexico.
About the Point Above: The point pictured at the top of this page is a large sized Matamoros point. This specimen is made from a beautiful banded chert that is alternating brown and tan bands. The point is well beveled on one edge of each face. The basal edge is highly thinned. There is a small chip out of the lower left hand basal edge. The point measures 44 mm in length, 21 mm at the widest point (across the base) and is 6 mm thick mid blade. The point tip thins down to 4 mm in thickness and the basal edge thins to 3 mm in thickness. This point was a surface find from Kinney CO, Texas and is from the former Ms. WIllingham collection and is marked in black ink, R1 over 378. Catalog Number 95-16-U
References: Bell (1), Overstreet, Perino (1), Puckett (1), Turner & Hester
© Copyright 1997 - 2008 LITHICS-Net WWW.LITHICSNET.COM
Use Your Browser's BACK Button to Return to the LITHICS-Net Index.