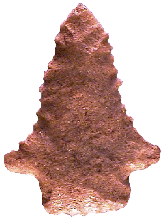 Point Type: ABBEY
Also See: Alachua, Cottenbridge, Levy, Maples, Pickwick, Savannah River, South Prong Creek, Wacissa
Location: Extreme Southeastern United States especially Western Florida, South Alabama, Georgia
Associated Dates: 6000 - 4000 B.P. - Early Archaic to Middle Archaic
Morphology: Stemmed
General Description: The Abbey type is a medium sized, broad stemmed knife blade form that is fairly thick and flattened (hexagonal) in cross section and is very often steeply beveled on all four sides of each blade edge face. Blade edges are incurvate to straight to recurvate and can often exhibit serrations. The shoulders are expanded or broad and tapered and are usually horizontal. On some examples the shoulder barb can have a hooked appearance and can have sharp to rounded ends. The distal end is usually acute. The stem is usually straight but may be expanded. The basal edge may be either slightly convex or straight and is usually thinned.
The Abbey usually exhibits well controlled, broad, shallow, random flaking. The Abbey embodies traits from both the Benton and Pickwick clusters. The Abbey is usually found in a totally exhausted or spent condition. The Abbey was typically reworked or resharpened by the employment of bifacial beveling or steeply angled pressure flaking that usually (but not always) left blade edges with serrations.
The Abbey can range in size from 38 mm to 66 mm in length, 32 mm to 49 mm wide at the shoulders and 6 mm to 9 mm in thickness. The stem length ranges from 7 mm to 12 mm and the stem width ranges from 14 mm to 25 mm. The type was first recognized by Ralph H. Allen Jr. and then named and described by David C. Hulse in 1964 for examples which he recovered from sites near the Abbey Creek in Houston and Escambia Counties, Alabama. The Abbey points were associated with Elora and Maples points at those sites.
Note that Baker submits a new Abbey type which he calls the Abbey Broad Stem in his 1995 book. Perino suggests that the Abbey may be a worn out Maples point having the blade shortened due to repetitious resharpenings.
About The Point Above: The beautiful tan and pink sugar quartz Abbey point pictured at the top of this page represents the typical form for the type in a highly reworked, near discard condition. The point has been reworked to such an extent that most of the blade has been sharpened away leaving only pointed barbs which reveal the original width of the blade. The point measures 57 mm in length, 41 mm wide across the barbs and is 7.5 mm at its thickest point near the shoulders. The base tapers down to 3.5 mm in thickness. The blade edges are incurvate and have pronounced serrations considering the material. The stem is 12 mm long and 24 mm wide. This point was found along the banks of the Tombigbee river in Choctaw County, Alabama. Catalog Number 201-62-J
References: Baker, Cambron & Hulse, Overstreet, Perino (2), Powell, Sowell & Nowak, Waldorf
© Copyright 1997 - 2008 LITHICS-Net WWW.LITHICSNET.COM
Use your Browser's BACK Button to return to the LITHICS-Net Index.