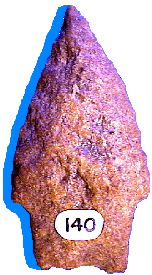 Point Type: SAVANNAH RIVER
Also See: Abbey, Appalachian, Arredondo, Bascom, Broad River, Elora, Genesee, Gypsy Stemmed, Hamilton, Holmes, Johnson, Kirk, Levy, Maples, Oatlands, Otarre Stemmed, Seminole, Snook Kill, Stanly, Stanly Narrow Blade, Swatara, Thonotosassa
Location: Southeastern to Eastern States (especially Virginia & Maryland)
Associated Dates: 5000 - 2000 B.P. - Middle Archaic to Woodland
Morphology: Stemmed
General Description: The Savannah River blade is a medium to large sized point with a straight to contracting stem which has a concave or notched which resembles a slightly bifurcated base. The shoulders are tapered to square and can be upward sloping. The stem can be either narrow or broad (wide) and a few examples have moderate grinding on the stem sides and base, however most have none. The blade edges are usually excurvate and may be straight in some examples. The blade is large and heavy. This type is one of the most common Southeasern stem types (along with the Appalachian) and is believed to be related to the earlier Stanly point. The Savannah River is also closely related to the Appalachian (Lewis & Kneberg 1957) point and may in fact be the same point type.
Hranicky goes on to describe three variants of the Savannah River being: Narrow Stemmed Savannah River; Wide-Stemmed Savannah River and Large Savannah River.
The Savannah River was named by William H. Clafin, Jr. in 1931 as the "Savannah River Broadspear Point" and the name was shortened and further defined by Joffre L. Coe in 1964 to the "Savannah River" for the Savannah River area where the blade is very commonly found.
The size of the Savannah River point ranges from 55 mm to 175 mm in length. The average size for the point is in the 48 mm to 62 mm range. It is typically made from materials other than flint and most specimens are made from local quartzites, green or gray slates and rhyolite with some of the better specimens made of costal plain cherts. The workmanship, due to the poor materials used appears to be crude.
About the Point Above: The point pictured at the top of this page, is from Reston, Virginia and was found in a corn field as a surface find. It is a wide stemmed, small size specimen, measuring 57 mm in length, 29 mm wide and 9 mm at its thickest point. The stem is wide and thus would be a wide-stemmed variety of the point with a ground and chipped convexity of the base that almost borders upon a slight bifurcation. The stem sides are also ground smooth and the stem is much thinner than the blade (5 mm thick). The point shows no use wear near the tip or along the blade edges and was probably used as a projectile point. This blade is made from a colorful reddish brown quartzite, the colors are especially evident when the quartzite is wet. Catalog Number 140-12-C
References: Dragoo (b, e), Justice, Fogleman, Hranicky, Overstreet, Perino (1)
© Copyright 1997 - 2008 LITHICS-Net WWW.LITHICSNET.COM
Use Your Browser's BACK Button to Return to the LITHICS-Net Index.