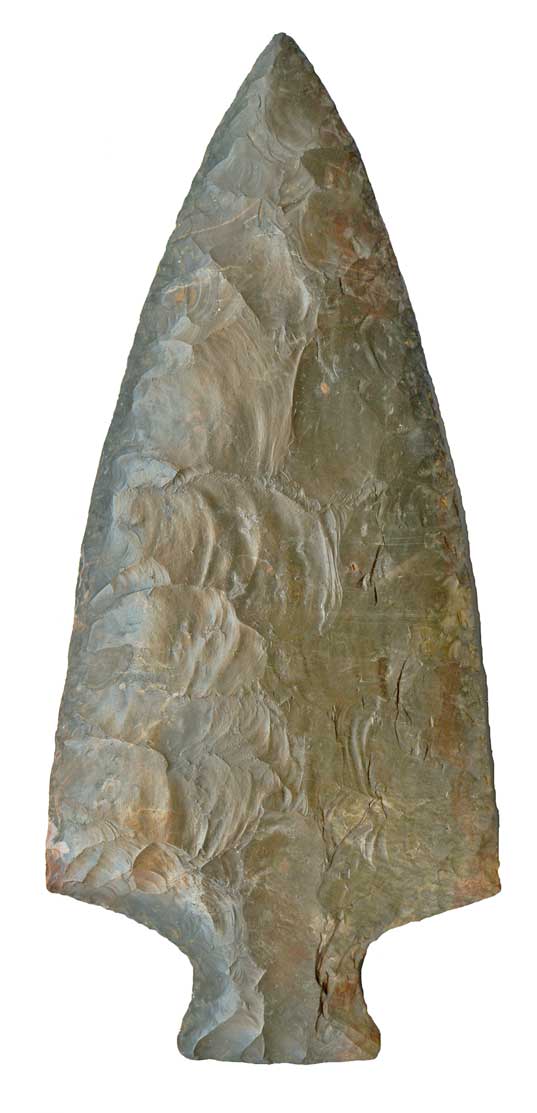 Point Type: ASHTABULA
Also See: Appalachian, Forest Notched, Koens Krispin, Lehigh, Mansion Inn, Perkiomen, Susquehanna, Table Rock, Waratan, Wayland Notched
Location: Northeastern United States, Especially Northeastern Ohio and Western Pennsylvania
Associated Dates: 4000 - 1500 B.P. - Late Archaic - Early Woodland
Morphology: Stemmed
General Description: The Ashtabula point is a medium to large sized blade that has an expanding stem. The blade is broad and triangular in shape with straight to slightly convex edges that expand near the basal edge. The shoulders angle away from the narrow stem which was formed by broad side notches. The basal edge may be straight or slightly concave or convex.

The Ashtabula type has longer, narrower stems than the Susquehanna or Perkiomen types and is part of the Susquehanna Cluster of points. Also, some specimens have one strongly shouldered barb while the other shoulder can be rounded. It is assumed this is due to use wear and resharpening. The size and shape of the type lends itself to a knife form or spear point rather than a projectile point although smaller specimens could have been used as dart points .

The Ashtabula can range in size form 51 mm to over 152 mm in length but the average size is between 76 and 101 mm.

In Ohio, most specimens are made of either Coshocton cherts or Flint Ridge chalcedony.

The Ashtabula is found in Ohio, Pennsylvania and New York. Many have been found in the Lake Erie region.

This point type has a relationship to the Orient Fishtail and Susquehanna Broad point types found in New York and in the New England states. The forms and ages are similar. The Ashtabula point is however typically larger in most instances and has a similar preform.

In Pennsylvania, the preferred lithic materials were jasper, dark rhyolite, Onondaga gray and black flints or cherts, Flintridge flints and occasionally quartzite.


The Ashtabula is a local point type term applied to this point by collectors in regards to points of this form found in Ashtabula County, Ohio.

About the Point Above: The very large Ashtabula blade pictured above is a near perfectly symmetrical example with no flaws. The point made from a dark brownish gray material which may be Delaware Chert. The flint has a satiny dull patina in some spots and has a soft waxy patina in other areas. The material has some light tan inclusions and banding especially near the tip and the shoulders. The point and blade edges are quite sharp. If you look close, you will notice a long flute from the base to beyond the stem. The base has not been ground nor have the edges of the stem. The point measures 134 mm in length, 58 mm at the widest point (the shoulders) and is 10 mm thick at its thickest point (at the junction of the stem and blade) with the typical thickness along the blade being 8 mm. This point was found in Seneca County, Ohio and is from the former Tim Veach collection. Catalog Number 112-121-R
References: Bell(2), Fogelman, Justice (1), Overstreet, Perino (1), Waldorf
© Copyright 1997 - 2009 LITHICS-Net WWW.LITHICSNET.COM
Use your Browser's BACK Button to return to the LITHICS-Net Index.