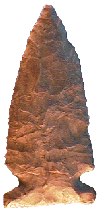 Point Type: BIG SANDY BROAD BASE
Also See: Big Sandy, Cache River, Meadowood, Newton Falls, Osceola, Otter Creek, Rowan , Savage Cave
Location: Southeastern United States
Associated Dates: 10,000 - 7000 B.P. Transitional Paleo to Early Archaic
Morphology: Side Notched
General Description: The Big Sandy Broad Base is a subtype of the Big Sandy family. It is a small to medium sized, side notched projectile point. The Broad Base subtype has a base that is wider than the blade and shows heavy basal grinding. The basal edge can be either slightly incurvate or straight. The type has moderately deep side notches. The basal auricles are expanded and are usually rectangular in outline. The stem is noticeable wider than the blade. The blade is usually triangular and medium in width or narrow. The blade edges are usually unbeveled and can be serrated. The blade terminates in a sharp distal tip and at the proximal end can have small, often struck, horizontal or slightly tapered barbs.
The average specimen is between 31 mm and 74 mm in length with a width between 22 mm and 34 mm and thickness between 6 mm and 8 mm.

The Big Sandy Broad Base subtype was named by James W. Cambron for examples he recovered from sites in Alabama.
About the Point Above: The point pictured above, is a large Big Sandy Broad Base specimen made of a rusty brown colored non-glossy flint. The point measures 65 mm in length, is 29 mm wide across the base and is 6.5 mm thick. The width across the barbs, which are struck, is 27 mm. The stem is 11 mm long and is thinned to 4 mm thick. The base is ground. The blade has fine horizontal flaking across both blade faces. This point is from the former Johnnie Woodard collection and was found near the town of Dickson, Dickson County, Tennessee. Catalog Number 73-25-D
References: Baker, Dragoo (b, c, e), Justice (1), Overstreet
© Copyright 1997 - 2008 LITHICS-Net WWW.LITHICSNET.COM
Use your Browser's BACK Button to return to the LITHICS-Net Index.