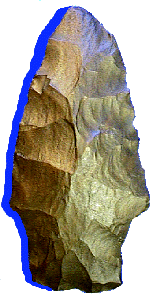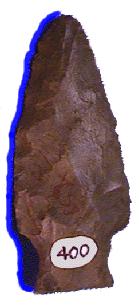 Point Type: GENESEE a.k.a Eastern Square Stemmed
Also See: Atlantic, Bear Island, Heavy Duty , Kays, Newmanstown, Piedmont, Savannah River, Stone Square Stemmed
Location: Northeastern States including Kentucky, Eastern Indiana, Michigan and Southeast Ontario
Associated Dates: 5000 - 2000 B.P. - Middle to Late Archaic
Morphology: Stemmed
General Description: The Genesee blade is a hefty, sturdy, medium to large sized point with strong tapered shoulders which are not barbed, but rather rounded or angled upward. The point has a small square base. The basal edge is straight and may be slightly ground along with the edges of the stem. The Genesee is thick and generally is fairly well made. Genesee blades are triangular in outline, with the blade edges usually straight or sometimes slightly excurvate. The shoulders can slope away from the base but more often typically are at right angles to the base and are well defined. The New York points are made typically from Onondaga gray and mottled chert and western New York and Ohio specimens are made of black Coshocton and Zaleski cherts.
The Genesee was named by William A. Ritchie in 1961 for the Genesee Valley of New York where he found many of these points. The Genesee is found in New York, Pennsylvania, southern New England and part of the adjacent states including Kentucky, eastern Indiana, Michigan the southeast Province of Ontario in Canada. The size of the Genesee point ranges from 38 mm to 150 mm with the average point in the 75 to 90 mm range.
About the Point Above Left: The point pictured at the top of this page, is from western New York state and was found in a corn field as a surface find. It is an average size Genesee specimen, measuring 72 mm in length, 34 mm wide and 12 mm at its thickest point. The point shows some use wear near the tip and possibly was used as a knife. The stem shows grinding on the all three sides. Close examination of the blade edges reveal crushing, especially on the right side (the side facing the top of the page) as would be expected in knife use. This blade is made from a dark brownish black flint which is very satin in nature and is patinated. Catalog Number 17-29-DV
About the Point Above Right: The point pictured below, is also from western New York state, and was found by me in a corn field as a surface find. It is a small Genesee specimen, measuring 58 mm in length, 24 mm wide and 9 mm at its thickest point. The point may have been originally much longer and perhaps this point is a reworked broken blade tip. The reason I indicate this relates to the base which is not thinned and clearly shows a sharp fracture. Catalog Number 400-12-A
References: Dragoo (b, e), Fogelman, Justice (1), Overstreet, Perino (1), Ritchie, Waldorf
© Copyright 1997 - 2008 LITHICS-Net WWW.LITHICSNET.COM
Use Your Browser's BACK Button to Return to the LITHICS-Net Index.