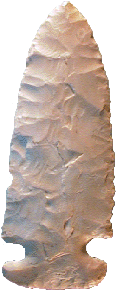 Point Type: GODAR
Also See: Accokeek, Archaic Side Notched, Big Sandy, Brannon Side Notched, Cache River, Cairo Side Notched, Graham Cave, Hemphill, Meadowood, Osceola, Otter Creek, Oxbow, Raddatz, Rowan , Savage Cave
Location: Midwestern United States
Associated Dates: 4500 - 3500 B.P. - Late Archaic
Morphology: Side-Notched
General Description: The Godar type is a medium to large sized, narrow to wide, side-notched point with parallel sided blade edges on longer pristine examples. The type also has a straight to rounded side notched base which may or may not be ground. The basal ears are not pointed as in the Graham Cave type but are generally rounded to squarish. The Godar side notched appears to be a local Illinios variation of the Big Sandy and Osceola side notched point traditions and displays traits which are common to both the Big Sandy I and Big Sandy II types. The Godar is certainly a member of the common Archaic Side Notched family of points (see large Also See: list above). A similar point which is smaller that the Godar was found at the famous Koster Site and was named the Brannon Side Notched.
The Godar point can range in size from 76 mm to 140 mm in length. The type was named by Gregory Perino in 1963 for points he recovered from west central Illinois.The point is typically found in Illinois, Indiana, Ohio, Kentucky, Tennessee, Missouri, southern Wisconsin and Arkansas.
About The Point Above: The Godar point pictured at the top right of this page is 98 mm long, 37 mm wide at the barbs above the notches, and is 8 mm thick at mid blade just above the notches. The width across the base is 35 mm and the base is straight and is not concave. The point is made from a beautiful silky semi-gloss white flint which is patinated. The base and notches are ground. The lower notch seems to be slightly wider or even perhaps double notched. The basal ears are thinned to 3 mm. The base thickness at mid base is 4 mm. The blade edges are quite sharp and show little to no signs of rework. I do not feel that this blade has been resharpened. There is a small knick out of the blade on the upper side about 21 mm from the notch. The blade was found near the town of Fayetteville, along the Kaskaskia River, St. Clair County, Illinois. Catalog Number 237-39-D
References: Dragoo (e), Justice, Overstreet, Waldorf
© Copyright 1997 - 2008 LITHICS-Net WWW.LITHICSNET.COM
Use your Browser's BACK Button to return to the LITHICS-Net Index.