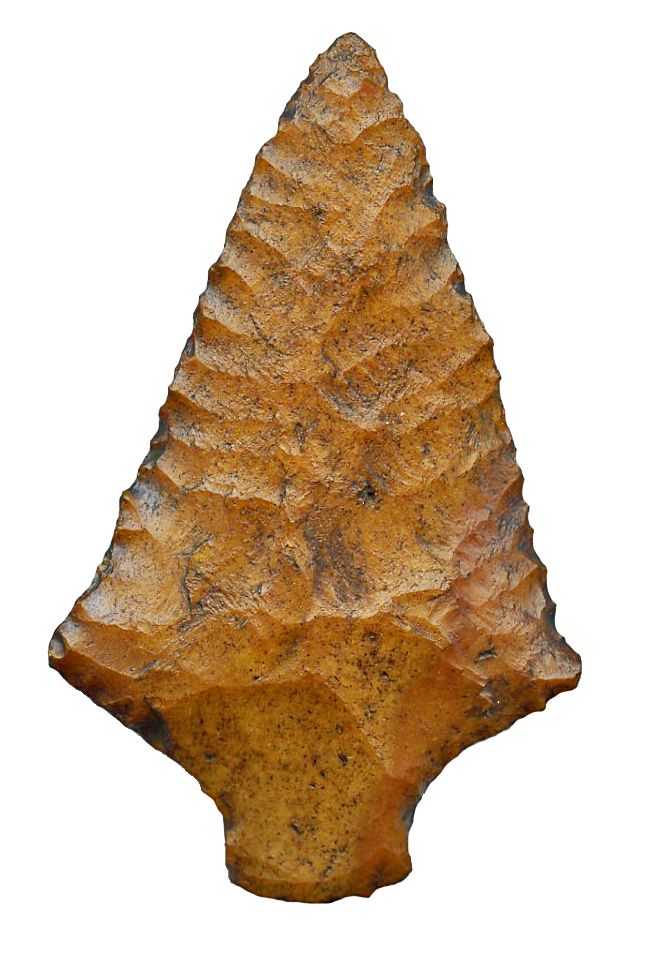 Point Type: HARDEE BEVELED
Also See: Alachua, Florida Archaic Stemmed, Levy, Limestone , Marion, Putnam
Location: Southern Southeastern United States
Associated Dates: 5500 - 3000 B.P. - Middle Archaic
Morphology: Stemmed
General Description: The Hardee Beveled  is a medium to large  sized  stemmed projectile point that occurs in two forms.  One form has a distinct uniface bevel on the right side of each face.  The second form has typical bifacial beveling.  The shoulders are tapered to horizontal and are sharp.  The blade edges can be straight, excurvate to incurvate and may show some fine serrations.  The typical material used in manufacture is chert and coral.  The Hardee Beveled resembles the other Florida Archaic Stemmed point types and as such I view it as a subtype.


The Hardee Beveled points are found in Florida and Georgia especially in the Tampa Bay area.  and extend into adjacent states.

The point was named by Kevin Dowdy and John Sowell in 1998. The point was also generally described by Ripley Bullen in 1975  as a fairly thick point with trianguloid blade the edges of which are unifacially beveled.

About the Point Above: The large Hardee Beveled point pictured at the top of this page, was a creek find near Tampa Florida. The point is made from a chert that is highly colored with river stain.  This point is a classical form for the type.  The blade tip is very thin and well made with fine diagonal retouch along the blade edges. Overall, the point measures 74 mm in length, is 46 mm wide across the barbs, and is 9 mm thick in mid blade with the vast majority of the blade being 5 mm in thickness.  The specimen is 10mm thick just above the barbs at mid blade.  The stem is 19 mm long and tapers from 24 mm wide to 16 mm wide. Catalog Number 172-50-Y
References: Hranicky, Overstreet, Waldorf
© Copyright 1997 - 2008 LITHICS-Net    WWW.LITHICSNET.COM
Use your Browser's BACK Button to return to the LITHICS-Net Index.