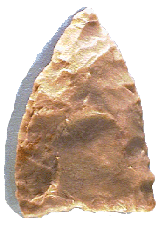 Point Type: JEFF
Also See: Angostura, Browns Valley, Golondrina, Hi-Lo, Paint Rock Valley, Quad
Location: Southeastern United States
Associated Dates: 10,000 - 8000 B.P.- Late Paleo
Morphology: Auriculate
General Description: The Jeff point is a medium sized, broad, auriculated lanceolate point with a expanded auricles or ears. The basal edge is straight to slightly concave, is usually beveled or thinned and may be ground. Auricles can either extend downward or out to the side. Some examples show fine pressure flaking on blade edges. Typically one shoulder is stronger than the other. The cross section is flattened and the blade edge is excurvate and may be slightly beveled on one side of each face and can be serrated. The distal end is usually acute. The side and basal edges of the hafting area are usually ground.
The Jeff type may be an unfluted variation of the Dalton-Meserve form. The type is always found with uniface tools and other pre-shell mound artifacts which points to a transitional Paleo association.
The Jeff point ranges in size from 28 mm to 69 mm in length with the average of 10 specimens being 47 mm. The width at the base averages 25 mm and the thickness averages 7 mm. The point was named by Frank J. Soday and James W. Cambron after the Jeff area of Madison County, Alabama where several examples of the type were first recognized.
About the Point Above: The point pictured above is a highly reworked Jeff point made of a tanish flint. I do not consider the pictured specimen to be a classical example of the type. The point measures 39 mm in length, 26mm at the widest point which is the base and is 6.5 mm thick. The point had a large flake scar on one side of the hafting area that resembles a flute, the scar is 19 mm in length. The base is ground and is just mildly concave with a incurvate form 1.75 mm deep. The blade reveals very fine pressure flaking along the edges and are lightly ground 11 mm up from the base. This point was a surface find from a plowed field on the banks of the Little Lynches River near Kershaw, Kershaw Co., South Carolina. Catalog Number 403-25-C
References: Cambron & Hulse, Dragoo (d), Overstreet, Puckett (1)
© Copyright 1997 - 2008 LITHICS-Net WWW.LITHICSNET.COM
Use Your Browser's BACK Button to Return to the LITHICS-Net Index.