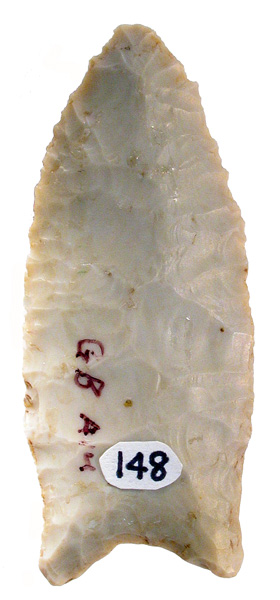 Point Type: GOLONDRINA
Also See: Angostura, Arkabutla, Beaver Lake, Clovis Unfluted, Colbert-Dalton, Dalton, Dalton-Greenbrier, Dalton-Hemphill, Meserve, El Riego, Jeff, Midland, Plainview, Simpson, Suwanee, Quad
Location: Midwestern United States
Associated Dates: 9,000 - 7,000 B.P. - Transitional Paleo
Morphology: Auriculate
General Description: The Golondria is a medium sized lanceolate point with recurved blade edges and an expanding hafting area. The basal edge is concave and the basal corners are auriculate or "eared". The hafting area is ground along the side edges including basal edge grinding. The cross section is lenticular and flaking is random but sometimes tends to be collateral. The base of the point is distinctive in that the basal corners flare outward like those of Dalton points.
The Dalton point and the Golondrina point are quite similar in general outline and may be part of a series. However a key differentiation is that the Golondrina's blade edges are not serrated as is often the case with Dalton points.
The Golondrina can be a very confusing point to type. The Golondrina is found in southern, central and west Texas, southwestern Arkansas and also in the states of Tamaulipas and Nuevo Leon in Mexico. The Golondrina is similar to the Dalton point which is found in the central United States. The Simpson and Suwanee points found in Florida and the Southeast are both similar in shape and age. In the past, the Golondrina has been hypothezied to be a variant or descendent of the Plainview type. The Golondrina can be easily confused with the Meserve type.
The size of Golondrina point can range from 32 mm to 61 mm in length. The width ranges form 23 mm to 32 mm and the thickness ranges from 6 mm to 8 mm. The basal width ranges from 22 mm to 29 mm. The basal concavity is usually 4 mm or more deep.

The Golondrina point was named by Leroy Johnson Jr. in 1964 for examples found at the Devils Mouth site, Amistad Reservoir, Val Verde County, Texas. Johnson originally called it the "Plainview Golondrina" and the name was shortened to Golondrina in 1982 by T. C. Kelly as research showed that the point was a distinct type from the Plainview type.
About the Point Above: The Golondrina point pictured at the top of this page, was found in Randolph County, Arkansas. The point is made from a tanish gray chert. The point exhibits collateral flaking with very fine edge retouch. The point is mildly serrated and does show rework. Overall, the point measures 58 mm in length, is 23 mm wide and is only 6.7 mm thick in mid blade. The concavity of the base is 4.5 mm deep. The base is ground as are the ears and blade edges running 17 mm up from the ears of the base. The width across the basal edge is 21.5 mm. Catalog Number 148C-66-D
References: Davis, Overstreet, Perino (1, 4), Turner & Hester
© Copyright 1997 - 2009 LITHICS-Net WWW.LITHICSNET.COM
Use Your Browser's BACK Button to Return to the LITHICS-Net Index.