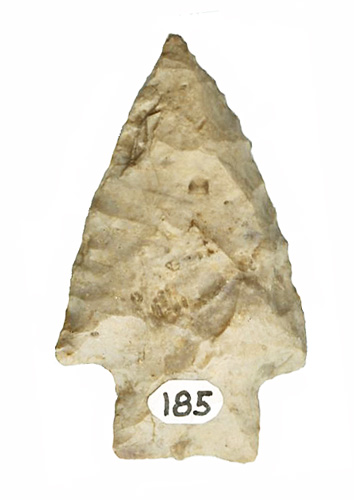 Point Type: KAYS a.k.a Kays Stemmed
Also See: Atlantic, Appalachian, Bare Island , Heavy Duty , Newmanstown, Oak Grove, Piedmont, Saratoga Parallel Stemmed, Savannah River, Stone Square Stemmed
Location: Southeastern United States, especially Tennessee, Alabama, Mississippi and parts of adjacent states
Associated Dates: 5000 - 3000 B.P. - Middle to Late Archaic
Morphology: Stemmed
General Description: The Kays is a large dart point and knife which has straight to convex edges on the blade. The stem is short, straight sided, and rectangular with straight or slightly convex basal edge . The shoulders are angular and some specimens may exhibit slightly barbed shoulders and may be rounded.

Flaking is conchoidal to midsection and then the blade edges get secondary retouch. The blade and stem are shaped by broad, shallow to deep flaking. Random flaking is usually employed however a few examples do show collateral flaking. The cross section is usually flat, biconvex or plano-convex and moderately thin. The hafting area my be lightly ground .

The size of the Kays can range from 42 mm to 105 mm in length with the average being 63 mm. Shoulder width - maximum, 32 mm, minimum 26 mm, average 30 mm. Stem length ranges from 16 mm to 10 mm, average 14 mm. Stem width ranges from 19 mm to 14 mm average 17 mm . Thickness ranges from 11 mm to 7 mm.

The Kays points are similar in form and age to the Genesee points found in New York, Savannah River, Oak Grove and Appalachian points as well as many other local stemmed point types of the Archaic period in the Eastern United States.


The Kays Stemmed point type was named by Madeline Kneberg in 1956 after the Kays Landing Site in Henry County, Tennessee where numerous specimens were recovered.

About the Point Above: The very small Kays point pictured at the top of this page, is from western Kentucky. This specimen measures 46 mm in length, 28 mm wide at the barbs and 7 mm at its thickest point (at the junction of the stem and blade). The stem is 18 mm wide and 10 mm long. The stem shows mild grinding on the all three sides. The blade has be reworked and there is bifacial retouch along all blade edges. This blade is made from a matte light cream colored Fort Payne chert with light gray and tan inclusions. The surface is worn and is patinated. Catalog Number 185-19-C
References: Baker, Cambron & Hulse, Hranicky (1), Justice (1), Overstreet, Perino (2)
© Copyright 1997 - 2009 LITHICS-Net WWW.LITHICSNET.COM
Use Your Browser's BACK Button to Return to the LITHICS-Net Index.