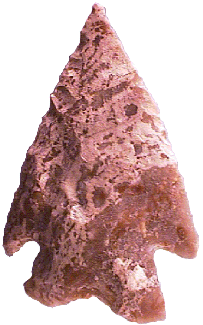 Point Type: MARTINDALE a.k.a. BANDY in Southern Texas
Also See: Bandy, Frio, Marcos, Marshall, Uvalde
Location: Midwestern States
Associated Dates: 8000 - 5000 B.P. - Early Archaic
Morphology: Corner Notched
General Description: The Martindale is a medium sized corner notched expanded stem point with a triangular blade outline. The blade edges may be straight, or recurvate but are usually excurvate. The shoulders are strong and are often barbed. The stem expands towards the basal edge. The Martindale's base is unique in that it is formed by two curves which meet at the center of the base causing a concave indented fish-tailed or V-shaped basal edge outline.
The Martindale is primarily a central Texas point type with a frequency of occurance diminishing in adjacent areas. Examples have been found in Oklahoma. The Martindale and the Uvalde and Frio are similar in general outline, and since both points have concave bases, one must rely on the fishtail appearance of the Martindale as the Uvalde and Frio do not exhibit this basal trait. In some respects, the Martindale has some similarities to the Dalton and Hardin points. The Martindale has a equivalent point type called the Bandy point which is found in the lower Pecos region of Texas. There seems to be very little difference between the two point types with the exception that the Bandy is in general is thinner than the Martindale.
The point was named the "Martindale Fishtail" by J. Charles Kelley for examples found in central Texas. It was described by E. O. Miller and E.B. Jelks in 1952. As was typical of many Texas point types, the name was shortened to "Martindale" and additional data and was included in the description by D. A. Suhm, A. D. Krieger, and E. B. Jelks in 1954. The Martindale's size can range between 37 mm and 70 mm in length. The width can range from 23 mm to 44 mm. The stem length ranges between 11.5 mm and 16 mm. The stem width ranges between 20 mm and 30 mm.
About the Point Above: The point pictured at the top of this page, is formerly from the Jake Damron collection and was found near Fire Creek, Gillespie County, Texas. It is made from a dull, dirty, mottled, tanish colored chert that has buff colored inclusions. The point is highly patinated and is well coated with callche. It measures 64 mm in length, 40 mm wide at the shoulder barbs, and is 8 mm at its thickest point (at the barbs in mid blade). The blade which has slightly excurvate edges is a uniform 5.5 mm in thickness. The stem is 15 mm long, 30 mm wide and the concavity of the base is 4 mm deep. The base of the stem and the stem sides have been slightly ground and is thinned to 4 mm in thickness. Catalog Number 93-66-N
References: Bell (2), Davis, Justice, Overstreet, Perino (1), Turner & Hester
© Copyright 1997 - 2008 LITHICS-Net WWW.LITHICSNET.COM
Use Your Browser's BACK Button to Return to the LITHICS-Net Index.