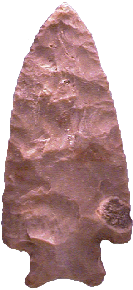 Point Type: UVALDE
Also See: Big Sandy, Buzzard Roost Creek, Fox Valley, Frio, Hoxie, LeCroy, Martindale, MacCorkle, Pedernales, Rice Lobbed, Stanly, Val Verde
Location: Midwestern to Southeastern United States
Associated Dates: 6000 - 1500 B.P. - Middle Archaic to Woodland
Morphology: Bifurcated
General Description: The Uvalde is a small to medium sized, bifurcated stemmed point with barbed or tapered shoulders. The blade is triangular to leaf shaped in outline with some specimens having serrated edges. The blade edges are straight to excurvate. The shoulders are usually prominent and barbed when the point is new and become weak as rework is performed. The stem is short to moderate in length and tends to expand towards the base. The expansion of the base may vary from weak to strong. The base is usually concave and can be U shaped. Basal corners range from well rounded to sharply pointed. The base never flares as wide as the shoulders but on some specimens, can flare close to the width of the shoulders.
The Uvalde is a broadly defined type that has considerable shape variations. The Frio type is somewhat similar to the Uvalde, however the Frio's ears flare outward more than this type. The Martindale is also similar, however the Martindale has a fishtail appearance and the Uvalde does not.
Typical point size data is not available for this type, if you have any Uvalde metric data, please e-mail it to me. The point was named by Dee Ann Suhm, Alex D. Krieger and Edward B. Jelks for examples which were found in south central and southwest Texas near the town of Uvalde.
About the Point Above: The Uvalde blade pictured at the top of this page, was found along the banks of Fire Creek, Gillespie County, Texas and is from the Pat Dunnegan collection. The point is made from light brown khaki colored flint that has light tan inclusions and large dark brown inclusion at the upper barb. The blade has callche deposits near some of the knapping scars. The edges of the blade show fine retouch. The lower barb is chipped off from a modern mishap. Overall, the point measures 88 mm in length, is 39 mm wide across the barbs, and is 6.5 mm thick in mid blade. The stem is 14 mm long and 24 mm wide. The stem thickness is 4.5 mm. The basal concavity is 3.5 mm in depth and it shows some minor grinding as do the stem edges. Catalog Number 32-75-U
References: Davis, Justice, Overstreet, Perino (1), Turner & Hester
© Copyright 1997 - 2008 LITHICS-Net WWW.LITHICSNET.COM
Use your Browser's BACK Button to return to the LITHICS-Net Index.