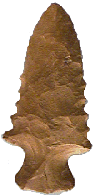 Point Type: SINNER
Also See: Charcos, Duran, Evans
Location: Southern Southeastern United States
Associated Dates: 3000 - 2000 B.P.- Woodland
Morphology: Corner Notched
General Description: The Sinner is a small to medium sized, expanding stemmed corner notched point with several barbs occurring above the shoulders. Sinner points probably share the same time period as the Evans point and are found in the same geographic area. The Sinner has pronounced barbs and had at least two or more notches on the blade resulting in blade edges that look as if they have large serrations. Usually basal grinding is light to moderate.
The Sinner point has an average size of 45 mm in length. The Sinner point was named by Clarence H. Webb for points he found in Harrison County, Texas.
About the Above Point: The point pictured above is a large sized classical example of the Sinner point. This specimen is made from a dark mustard colored flint or chert. The point measures 49 mm in length, 22 mm at the widest point (across the barbs) and is 7 mm thick at mid blade. The hafting area thins down to 4 mm in thickness at the base and the stem is 15.5 mm wide at the widest point and is 11.5 mm long. This point was found near Leesville, Louisiana. Catalog Number LA46-19-C
References: Overstreet, Turner & Hester, Waldorf
© Copyright 1997 - 2008 LITHICS-Net WWW.LITHICSNET.COM
Use your Browser's BACK Button to return to the LITHICS-Net Index.