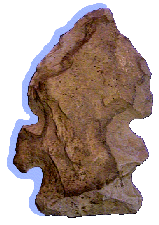 Point Type: EVANS
Also See: Benton, Charcos, Duran, Leighton, Ohio Double-Notched, Sinner, Turkeytail
Location: Midwestern to Southeastern United States
Associated Dates: 4000 - 2000 B.P.- Late Archaic to Woodland
Morphology: Stemmed / Side Notched
General Description: The Evans point is a medium to large size stemmed point that is double notched on each side somewhere between the point and the shoulders, typically 1/3 the way up from the shoulders. It is suspected, that these notches may have been for decorative purposes rather than for hafting as close examination usually reveals no grinding or smoothing of the notches. The Evans has a square stem and can also have a slightly expanding stem. The base of the stem may be straight, convex or mildly bulbous in appearance.
The average specimen is 52 mm in length. The type is usually found in Northern Louisiana. They were usually knapped from yellow and tan pebble chert and sometimes novaculite. The Evans point was named and described by J.A. Ford and C. H. Webb for examples that they found at the Poverty Point site which is located near the town of Epps, West Carroll Parish, Louisiana.
About the Point Above: The point pictured above is a small Evans point made of a tanish chert. The point measures 40 mm in length, 29mm at the widest point and is 7 mm thick. This point was a surface find from Leesville, LA. Catalog Number LA60-10-C
References: Davis, Overstreet, Waldorf
© Copyright 1997 - 2008 LITHICS-Net    WWW.LITHICSNET.COM
Use your Browser's BACK Button to return to the LITHICS-Net Index.