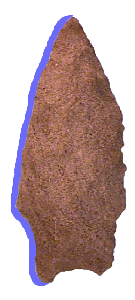 Point Type: STANLY NARROW BLADE
Also See: Kirk Serrated-Bifurcated, Neville Stemmed , Pedernales, Savannah River, Stanly, Southampton
Location: Eastern United States
Associated Dates: 8000 - 5000 B.P.- Early Archaic
Morphology: Stemmed Bifurcated
General Description: The Stanly Narrow Blade point is a medium sized Early Archaic dart or spear point with narrow shoulders, a parallel sided stem and a bifurcated concave base. It is believed to have evolved from Kirk points and then eventually evolved into the Savannah River point. Many believe that it is strongly related to the Benton point type. The type was named by Joffre Coe in 1964 after points found in a site within Stanly County, North Carolina. The blade is typically made from localized materials such as quartzites, rhyolite and local cherts if available. I have not been able to find any average size data for this point.
About the Point Above: The point pictured above is a Stanly Narrow Blade point made from a granular sugar quartzite which is tanish in color. The point measures 64 mm in length, 26 mm at the widest point (the shoulders) and is 9 mm thick at the base of the shoulders with most of the blade being 8 mm thick. The stem is 18 mm wide. The base is concave and is eared. The right or upper ear is not as pronounced as the left or lower ear. The smaller ear is not chipped off or broken, it appears to have been made smaller. The base is ground and the blade edges have been retouched to thin and sharpen. The right or upper blade edges shows serrations which are a result of the retouch scars.This point was a surface find from Reston, Virginia. Catalog Number 143-10-C
References: Overstreet, Fogleman
© Copyright 1997 - 2008 LITHICS-Net WWW.LITHICSNET.COM
Use Your Browser's BACK Button to Return to the LITHICS-Net Index.