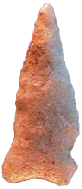 Point Type: YADKIN EARED TRIANGLE
Also See: Brewerton Eared Triangle, Candy Creek, Hardaway, Levanna, Nolichucky, Potts, Rowan , Waratan, Yadkin
Location: Far Eastern United States, Especially North Carolina
Associated Dates: 2500 - 500 B.P.- Woodland to Mississippian
Morphology: Auriculate
General Description: The Yadkin Eared Triangle is a small to medium sized triangular, auriculated arrowhead with a concave base. It is considered to be a sub-type or variant of the Yadkin type. The ears or auricles are produced by a shallow constriction or slight notching at the base. The notches are usually steeply beveled on one edge of each face on some examples.
The lithic materials typically used in making the Yadkin Eared Triangle point were quartz, rhyolite, andesite, argillite or novaculite.
The Yadkin Eared Triangle arrowhead ranges in size from 35 mm to 63 mm in length with most examples being between 35 mm and 44 mm in length.

The Yadkin Eared point type was named by Joffre L. Coe for specimens that he found at sites along the Yadkin River in northwestern North Carolina.
About the Point Above: The point pictured at the top of this page is a large sized Yadkin Eared Triangle arrowhead. This specimen is made from dirty light gray quartzite that has pinkish or rust colored stains. The point measures 46 mm in length, 19 mm at the widest point (across the ears of the base) and is 9 mm thick mid blade. The hafting area thins down to 5 mm in thickness at the base of the concavity. The base concavity is 2 mm deep. The rest of the blade is for the most part 5 mm in thickness. This point is thick for the type, however the choice of lithic material used must be considered. This point was found near the Chowan River, town of Tunis, Hertford County, North Carolina. Catalog Number 405-4-B
References: Fogleman, Hranicky (1, 2), Justice (1), Overstreet
© Copyright 1997 - 2008 LITHICS-Net WWW.LITHICSNET.COM
Use Your Browser's BACK Button to Return to the LITHICS-Net Index.