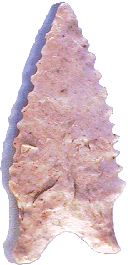 Point Type: DALTON
Also See: Alamance, Chipola, Colbert-Dalton, Dalton-Greenbrier, Dalton-Hemphill, Debert, Golondrina, Hardaway, Holland, Meserve, Plainview, San Patrice, Sloan, Vandale
Location: Midwestern to Eastern United States and Florida
Associated Dates: 10,000 - 8000 B.P. - Late Paleo -Transitional Paleo
Morphology: Auriculate
General Description: The Dalton spear or dart point is a medium to large sized lanceolate, auriculate, fish tailed, type with a concave base and serrations along the blade edges. A key identifier is the fact that many specimens show some form of serrations on the blade edges and are finely flaked. If beveling occurs it typically is on one side of each blade face and usually on the right side. The hafting area has incurvate, heavily ground side edges and basal grinding. The concavity at the base is thinned by the removal of one or more thinning flakes. In some cases, these thinning flakes extend beyond the hafting area and up the blade to give the appearance of a flute. The pristine example of the Dalton shows excurvate blade edges. As use and reworking occurred, the blade shape became triangular and then eventually rapier or drill-like in form with an exaggerated wide hafting area and a drastically reduced blade width. The Dalton point and the Golondrina point are quite similar in general outline and may be part of a series. However a key differentiation is that the Golondrina's blade edges are not serrated as is often the case with Dalton points.
The size of Dalton point can range from 33 mm to 68 mm in length. The average size is 48 mm in length, with a 14.5 mm stem length and 20.5 mm width. Thickness averages 6 mm and the average base concavity is 5.5 mm. The point was named by C. H. Chapman in 1948 for Judge S.P. Dalton of Jefferson City, Missouri who was the first person to make a serious study of this point type.
About the Point Above: The large point pictured at the top of this page, was found in Pike County, Missouri. The point is made from a white chert with light tan and rust colored inclusions. It has quite pronounced serrations on slightly excurvate blade edges. The serrations are still, to this day, quite sharp and one can do nothing but grimace at the thought of this blade used as a projectile point. Overall, the point measures 62 mm in length, is 27 mm wide (across the shoulders) and is only 6 mm thick in mid blade. The concavity of the base is 7 mm deep. The base is ground as are the ears and blade edges running 16 mm up from the ears of the base. The hafting area is 22 mm wide and the width across the ears is 25mm. Catalog Number 122C-55-G
References: Baker, Davis, Dragoo (a,c,d) , Justice, Overstreet, Waldorf
© Copyright 1997 - 2008 LITHICS-Net    WWW.LITHICSNET.COM
Use Your Browser's BACK Button to Return to the LITHICS-Net Index.