Point Types Indexed Alphabetically | Point Types Indexed By Shape | Illustrated Standard Point Terminology
LITHICS-Net Point Type Information
Welcome to Art Gumbus' NEW LITHICS-Net now hosted at WWW.LITHICSNET.COM ! 
This page is your gateway to two types of point typology indexes:
The Alphabetical Index lists all of the point types that I have cataloged on Lithics-Net to date. This index is in point name sequence and is the original LITHICS-Net index. The assumption in using this index is that you know the type and want to view information about the type.

The Shape Index is my newest index. It is designed to help you identify a projectile point type that you may not know the name of. The shape or morphology index is organized by 10 major hafting area shape groups. An explanation and example for using the shape index is provided at the top of that index.
THE PURPOSE OF LITHICS-Net
Art Gumbus' LITHICS-Net is a non-profit World Wide Web site dedicated to those who ethically find, study, protect and preserve the lithic projectile point artifacts crafted by the aboriginal people who once habitated pre-historic North America.
The LITHICS-Net project started out in 1993 as way for me to document some of the best point types in my projectile point collection. In 1993 LITHICS-Net existed only on my computer as a personal project. In 1997 LITHICS-Net was web hosted at American OnLine in their free members area. However, in late 2008 Americal Online withdrew the members area of their free web hosting site.   So LITHICS-Net was offline for about 3 weeks.  Now LITHICS-Net has its own new domain name and is hosted from a professional web hosting service.

LITHICS-Net hopes that others will photograph and document their lithic projectile point collections and add these links to LITHICS-Net. Thus, LITHICS-Net will become the hub to an ever-increasing virtual hypertext lithic online museum and source of reference. If you would like to participate in this goal of LITHICS-Net, please contact webmaster Art Gumbus by e-mailing him at ArtGumbus@aol.com. I will assist in any way I can as time allows.
It is suggested that your computer or web browsing device be able to display at least 256 colors and the screen resolution be set to a minimum of 800 x 600 to enjoy the digital color photgraphs within the LITHICS-Net site. If you are and America Online user, please set your AOL browser to NOT use compressed graphics, as the images on LITHICS-Net are high resolution and are photo quality.  The compressed graphics make the photos look muddy.
Thank You, and enjoy your tour of LITHICS-Net.
Below are illustrations of the terms used in many of the LITHICS-Net descriptions of Projectile Points. I hope you find these helpful and as time allows, I will be annotating the bookmarked Glossary of Terms with these illustrations.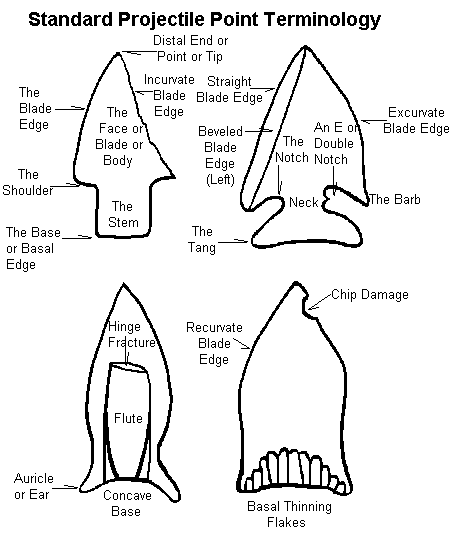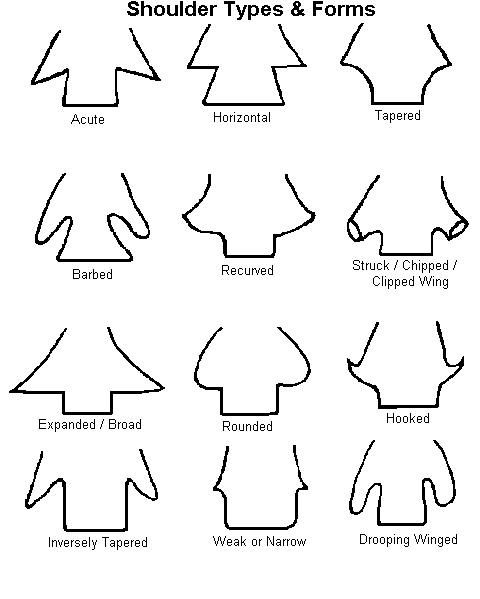 Lithics-Net Home Page | Glossary of Lithics Terms
Thanks for visiting Art Gumbus' LITHICS-Net. And please drop in again soon. I always like to receive feedback and comments so please e-mail me.
Copyright © 1997- 2008, Art Gumbus' LITHICS-Net WWW.LITHICSNET.COM
---