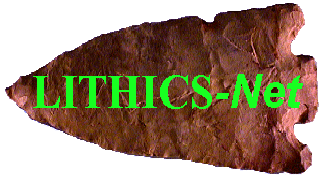 Projectile Point Data Indexed By Morphology (Shape)
Illustration Showing the Common Projectile Point Base Shapes


Click on Any of the Above Hafting Shapes to Go to That Section of the Index
The shapes above represent the major morphologies or shape outlines for projectile point types. Each point shows one half of the shape and is so lettered. To identify your point's hafting type, find the shape that is the closest to the above illustration. Pay close attention to the bottom half of the artifact, which is the hafting area, and totally disregard the artifact's tip shape. Once you have found a match with one of the 10 shapes, then click on the corresponding illustration or underlined linked letter description (above) to find a list point types that may be candidates for more exacting matches.
Example: Look at the Projectile Point which is the Lithics-Net Logo at the top of this page. Find a corresponding base shape above. Type E is the closest. Type E is the Basal Notched morphology. Click on either the illustrated shape or the underlined caption E = Basal Notched, and your browser will jump you to the projectile points that are cataloged with that hafting shape. When you get to that section of the index, click on each name of the point types listed and see if any are a match.
Please note that I do not have all known point types identified online at this time.
Some point types will appear under more than one shape due to their diversity of outline. Additionally, point types may not yet have photographed examples of all possible shapes ie: Straight, Contracting and Expanding.
---

Brewerton Corner Notched (4 points)
Etley (3 points)
Elko Eared  (2 points)
Hardin Barbed (3 points)
Kirk Corner Notched (3 points)
Lost Lake (2 points)
Marshall (2 points)
Motley (3 points)
Palmer (2 points)
Snyders (5 points)
St. Charles a.k.a. Dovetail or Plevna (3 points)
Vosberg (2 points)
---
SIDE NOTCHED PROJECTILE POINTS
Brewerton Side Notched (5 Points)
Greenbrier (6 points)
Hemphill (2 points)
Lamoka (4 points)
Meadowood (3 points)
Otter Creek (3 points)
Osceola (2 points)
---
LANCEOLATE TRIANGULAR PROJECTILE POINTS

Brewerton Eared Notched
(2 points)
Brewerton Eared Triangle
(3 Points)
Hamilton Arrow a.k.a. Hamilton Incurvate
Levanna (6 points)
Madison (2 points)
---

Copena (3 points)

Guilford-Yuma
Harpeth River (2 points)
Jack's Reef Pentagonal

Lerma Rounded Base
Searcy (2 points)
Steubenville Stemmed a.k.a. Fox Creek (2 points)
---
BASAL NOTCHED PROJECTILE POINTS

Calf Creek (2 points)
Etley (3 points)
Eva (9 points)
Marshall (2 points)
---

Beaver Lake (2 points)
Brewerton Eared Notched
(2 points)
Brewerton Eared Triangle
(3 Points)
Dalton-Hemphill (2 points)
Greenbrier (6 points)
Hemphill (2 points)
---
EXPANDING STEMMED PROJECTILE POINTS

Adena (4 points)
Elk River (3 Points)
Etley (3 points)
Hardin Barbed (3 points)
Harpeth River (2 Points)
Kirk Stemmed (2 Points)
Lamoka (4 points)
Motley (3 points)
Pickwick (5 points)
Susquehanna Broad (2 points)
---
STRAIGHT STEMMED PROJECTILE POINTS

Bare Island (2 Points)
Benton Stemmed (2 Points)
Elk River (3 Points)
Etley (3 Points)
Genesee (2 points)
Kirk Stemmed (2 points)
Lamoka (4 points)
Pickwick (5 points)
Slate Point - Ground & Polished
Snook Kill (2 points)
Steubenville Stemmed a.k.a. Fox Creek (2 points)
---
CONTRACTING STEMMED PROJECTILE POINTS

Adena (4 points)
Adena Narrow Stem

Adena - Waubesa
Elk River (3 Points)
Gary (2 points)

Hardee Beveled
Lamoka (4 points)
Maples (2 points)
Pickwick (5 points)
Poplar Island (2 points)
Rossville (4 points)
Slate Point - Ground & Polished (2 points)
Snook Kill (2 points)



Stark (2 points)



Steubenville Stemmed a.k.a. Fox Creek (2 points)
---
BIFURCATED STEMMED PROJECTILE POINTS

Buzzard Roost Creek (3 points)

Hemphill (2 points)

Lecroy (3 points)

MacCorkle aka Large Bifurcate (2 points)

Montell (2 points)

Pedernales (3 points)

Pinto Basin (2 points)

© Copyright 1997 - 2009 LITHICS-Net    WWW.LITHICSNET.COM