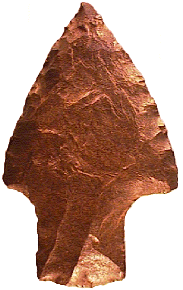 Point Type: SMITHSONIA
Also See: Buck Creek Barbed, Hamilton, Motley, Normanskill, Table Rock, Wade
Location: Southeastern United States
Associated Dates: 4000 - 1500 B.P. - Late Archaic - Woodland
Morphology: Stemmed
General Description: The Smithsonia type is a medium sized, triangular bladed dart point with a straight stem that can be slightly expanding. The base is either straight or slightly convex and can often be ground. The shoulders are horizontal, expanded, and can have inversely tapered barbs. The blade is triangular in outline with edges that are straight or slightly recurvate and can have very small bifacial serrations. On some examples, one blade edge can be straight while the other blade edge is excurvate. The blade often has an acute distal tip. The flaking scars are of percussion type and these often remain on both blade faces. The blade edges were usually finished by the application of Cotaco Creek flaking techniques that produce very small serrations. The stem was formed by the removal of a pair of broad percussion flakes. The basal edge was finished by the removal of a few broad or a few elongate flakes from both faces.
The Smithsonia is typically found in the vicinity of the Tennessee River and its tributaries, predominantly in the Alabama and Tennessee.
The cross section of the Smithsonia is biconvex to almost flat. The size of the Smithsonia ranges from 43 mm to 83 mm in length. The width ranges from 26 mm to 40 mm. The stem ranges from 11 to 17 mm long and is between 14 mm to 16 mm wide. The overall thickness is usually between 7 mm and 8 mm. The Smithsonia was named by Ralph H. Allen Jr. and David C. Hulse in 1975 for examples which they recovered from site number 41 near Smithsonia, on the Tennessee River, Lauderdale County, Alabama.
About The Point Above: The small sized Smithsonia point pictured at the top of this page, was found near the town of Cleveland along the Clinch River in Russell County, Virginia. It is made from a black matte rhyolite material. Overall, the point measures 46 mm in length, is 27 mm wide at the barbs and is 8 mm thick at mid blade near the shoulders. The base measures 14 mm in width and the stem is 14 mm long. There is a slight amount of basal grinding on this point. This point, in my opinion appears to be exhausted and is highly reworked. Catalog Number 72-6-A
References: Baker, Justice, Overstreet, Puckett (1)
© Copyright 1997 - 2008 LITHICS-Net WWW.LITHICSNET.COM
Use your Browser's BACK Button to return to the LITHICS-Net Index.