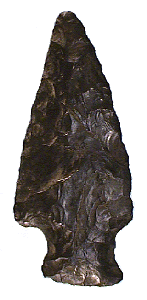 Point Type: NORMANSKILL
Also See: Brewerton Corner Notched, Brewerton Side-Notched , Drybrook, Cupp, Lamoka , Meadowood , Motley, Orient Fishtail, Pequea, Susqehanna Broad, Tablerock, Tocks Island
Location: Northeastern States
Associated Dates: 6000 - 4000 B.P. - Middle Archaic
Morphology: Side Notched
General Description: The Normanskill point is a medium to large sized, narrow, side notched blade with tapered shoulders and an expanding base. Asymmetry of the shoulders is common. The point is always broadest at the shoulders. The blade is narrow and triangular in outline and the blade edges are straight. The stem is boldly side notched and slightly thinned by coarse flaking from the base. The base is straight to slightly concave. On rare occaisions, the base shows a little smoothing or could be convex. The Normaskill point type is part of the Vosburg complex of the Laurentian tradition. The type suggests a slender variant of the Brewerton Side-Notched and Lamoka however the blades of the Normansill tend to be narrower than those of the afore mentioned types.

The size of the Normanskill point ranges from 36 mm to 90 mm in length. The average size for the point is in the 42 mm to 50 mm range.

The Normanskill type is typically made from Deepkill, Normanskill and Fort Ann flints.

The Normanskill type was named by William A. Ritchie for the Normanskill, which is a tributary of the Hudson River in Eastern New York.

Notes: Boudreau indicates that shoulder damage on an artifact could cause some confusion in type with Susqehanna Broad points.
About the Point Above: The large Normanskill blade pictured at the top of this page, is from Eastern New York. It is made from a glossy black flint and measures 81 mm in length, 34 mm wide at the shoulders and 10 mm at its thickest point, which is at the shoulders. The stem is not ground but is thinned and has an asymmetrical outline. The stem measures 20 mm wide at the notches and 24 mm wide at the expanded ears. The stem is thinned to 7 mm in thickness. The typical blade thickness is 7 mm. Close examination of the blade surface shows smoothing of the knapping scars due to some abrasion. The material has waxy feel and the workmanship is very nice. Catalog Number 16-29-DV
References: Boudreau, Custer, Fogelman, Justice (1), Overstreet, Ritchie
© Copyright 1997 - 2009 LITHICS-Net WWW.LITHICSNET.COM
Use your Browser's BACK Button to return to the LITHICS-Net Index.