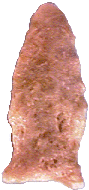 Point Type: ORIENT FISHTAIL
Also See: Big Sandy Auriculate, Copena Classic, Drybrook, Forest Notched, Frost Island, Oxbow, Perkiomen , Rowan, Susquehanna Broad, Taconic Stemmed, Waraton, Wayland Notched, Yadkin - Eared
Location: Northeastern United States
Associated Dates: 3200 - 2500 B.P.- Late Archaic - Early Woodland
Morphology: Stemmed
General Description: The Orient Fishtail point is a small to medium sized, slender, gracefully formed point with a narrow lanceolate blade that merges into a flaring "fishtail" stem. The blade shape is lanceolate in outline, and is biconvex to nearly flat in cross section with excurvate edges. The sloping shoulders merge into a flaring stem with incurvate or less often, with a straight base. It is felt that the Orient Fishtail is a continuation of the Perkiomen Broadpoint Tradition .
The lithic materials used in making the Orient Fishtail point are varied depending upon geographic area. In the point's primary focus area of Long Island, coastal Connecticut and southeastern New York, quartz and quartzite predominate. On the upper Delaware black and gray Helderberg flints, argillaceous shale and Hudson Valley cherts prevail along with brown, red and yellow jasper. In the Lehigh and Schuylkill valleys of east-central and southeastern Pennsylvania Berks/Leigh jasper, chalcedony, black flint, siltstone and argillite were used.

Vernon Leslie states in his 1963, New World Antiquity article "A Typology of Arrowpoints Found in Wayne County Pennsylvania and in Southern County, NY" that there are two minor variants of the Orient Fishtail; one having a straight base and one with a concave or true "fish tail" base. In addition Leslie says that "if one were to include a wider geographical range (for the Orient Fishtail type), I believe it possible to assemble a series ranging from the extremely slender subtype up to and including the Susquehanna Broad Spear type."
The Orient Fishtail point ranges in size from 25 mm to 102 mm in length with most examples being between 50mm and 64 mm in length.

The Orient Fishtail point was named by William A. Ritchie for examples he found at the Stoney Brook and Orient 1 and 2 sites, on Orient Point (North Fork), Long Island, New York.
About the Point Above: The point pictured above is a small sized Orient Fishtail point made from white and pinkish quartzite. The point measures 46 mm in length, 20 mm at the widest point (across the tail) and is 9 mm thick at mid blade just above the shoulders. The stem thins down to 6.5 mm in thickness and is 16 mm wide. The base slightly concave and is ground. The distal end is no longer pointed and is rounded off. The rounded point is very heavily smoothed to a near polish on one face only. Microscopic examination reveals many polishing scars, typically in a distal to basal direction. It is probable that the polishing is the result of use wear. It can be assumed that this point was used as some type of tool during its life. This point was a surface find along the banks of Frosh's Pond in the town of Stratford, Fairfield County, Connecticut. Catalog Number 406-5-B
References: Fogleman, Ritchie, Waldorf
© Copyright 1997 - 2009 LITHICS-Net WWW.LITHICSNET.COM
Use your Browser's BACK Button to return to the LITHICS-Net Index.