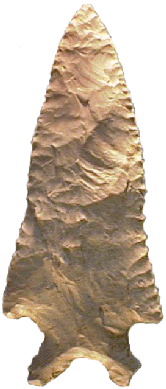 Point Type: BIG SANDY CONTRACTED BASE
Also See: Big Sandy, Big Sandy Broad Base, Black Sand, Bolen Bevel , Cache River, Fairland, Frio, Godar, Graham Cave, Hemphill, Hickory Ridge, Jakie Stemmed, Kessell, MacCorkle, Meadowood, Newton Falls, Osceola, Otter Creek, Pine Tree, Quad, Raddatz, Rowan , Savage Cave, St. Albans, Taylor Side Notched, Uvalde
Location: Midwestern to Southeastern United States
Associated Dates: 11,000 - 3000 B.P. Transitional Paleo to Late Archaic
Morphology: Bifurcated
General Description: The Big Sandy Contracted Base point is a small to medium sized bifurcated, side notched type with a deeply concave base that shows heavy basal grinding. Some examples show parrallel flaking on blade faces. Blade edge serrations can occur. The blade is overall triangular in shape and flat with excurvate to straight blade edges. Fine pressure flaking was used to retouch the blade edges. The basal edge is deeply concave and the basel corners appear to be rounded auricles or ears that point outwards or droop downwards. The side notches are usually broad and can range from shallow to deep.
The Big Sandy family of points is composed of five members. There seem to be noticeable differences between early, middle and later types of Big Sandy points. The early types seem to be small versions of the Graham Cave. It is felt that some mis-typed Big Sandy's are actually short versions of the Graham Cave which have been resharpened to near reject stage. Additionally there are variants of the Big Sandy family which are now point types of their own: The Big Sandy, Big Sandy Broad Base, Big Sandy Contracted Base, Big Sandy E-Notch and Big Sandy - Leighton Base.
There is no data available as to the typical sizes for the Big Sandy Contracted Base type.

The type was named by James W. Cambron and David C. Hulse in 1975.
About the Point Above: The point pictured above, is a magnificent, large Big Sandy Contracted Base specimen made from a dull white chert. The point measures 101 mm in length, 40 mm at the widest point and is 10 mm thick just above the notches at mid blade. The width across the ears of the base is 29 mm and the stem is 6 mm thick. The stem is 19 mm long and the concavity of the base is 9 mm deep. The blade has fine retouch knapping scars on the recurved blade edges. The base is heavily ground in the basal area with some grinding in the notches. One of the auricles has been historically chipped thus reducing the basil width dimension. This point was found in northern Arkansas. Catalog Number 89-75-L
References: Baker, Dragoo (b), Justice (1), Overstreet, Perino (1), Puckett (1), Waldorf
© Copyright 1997 - 2008 LITHICS-Net WWW.LITHICSNET.COM
Use your Browser's BACK Button to return to the LITHICS-Net Index.